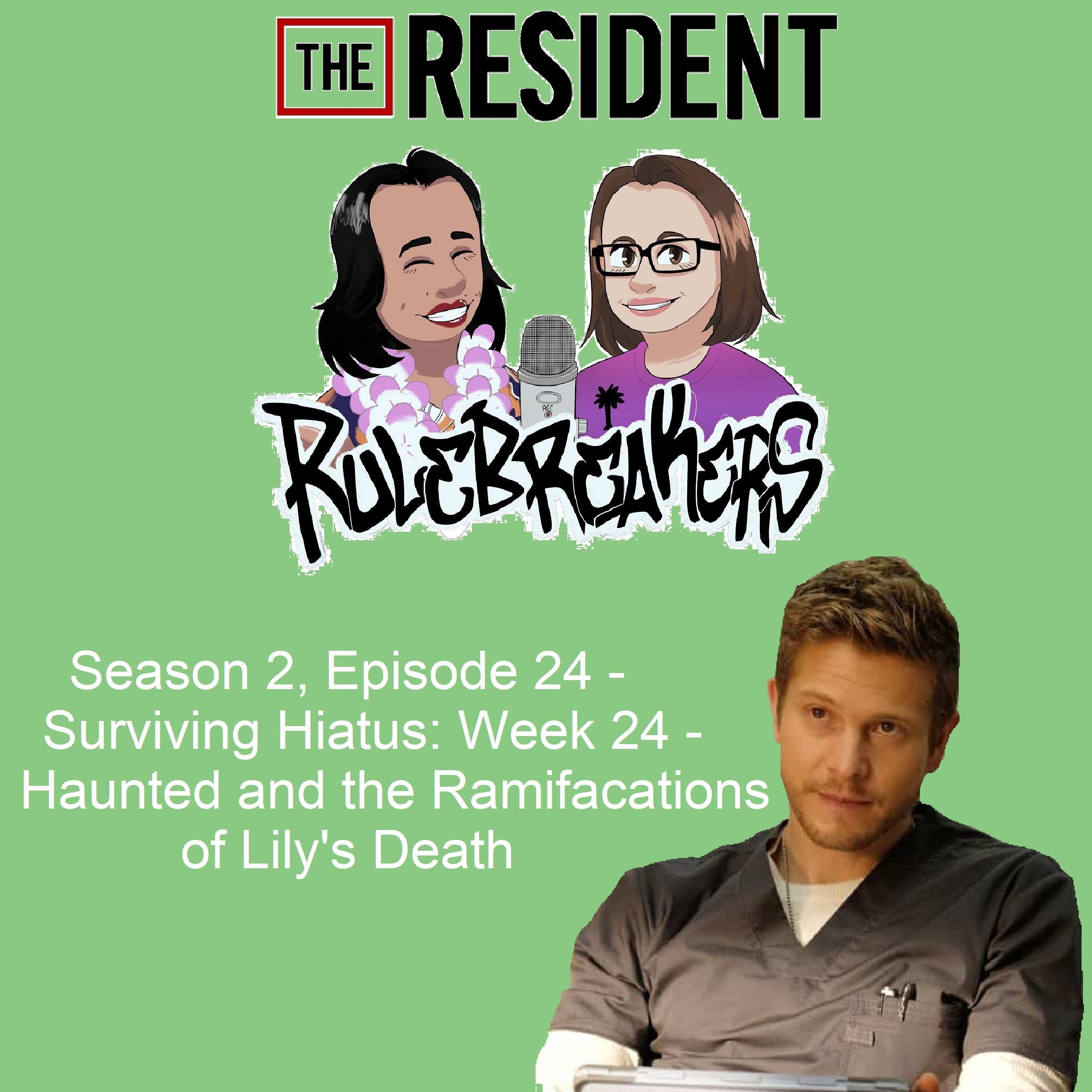 TOP NEWS:
- We send our deepest condolences to Amy Holden Jones and her family on the passing of her husband, Michael Chapman. He was a famed director of photography on movies like Taxi Driver and Jaws. 
- Kayla's uncle passed away last Sunday. It's been a rough week, but we promised a podcast to you, so she pushed through to provide you with the best podcast she's capable of giving - as a co-host and as the editor.
-
In this podcast, we discuss episode 1x10, "Haunted". Directed by David Crabtree and written by Andrew Chapman.
- The team deals with the death of Lily - which causes Conrad to see her "ghost". Also, Lane Hunter is pushing for an autopsy, which has us wondering why. Wouldn't she want to hide her insurance fraud?
- Conrad sprains his ankle after he gets hit by bicyclist while running and forgoes treatment until everyone around him forces him to get it. He does put a shot of cortisone in it to help with pain. Nic finally is able to ice and bandage the ankle after they finish their shift.
- #CoNic - They discuss their grief, which allows them to grow closer and they end up sleeping together at the end of the episode.
- Dr. Eileen Jacoby, one of Conrad's mentors and former professors, is seeing the "ghosts" of patients she feels regret that she couldn't save. Ends up being a bleed in her frontal lobe, and Conrad also helps her get therapy. She also begins to help him cope with losing Lily. Also, Mina's a bit of a fan girl and credits Dr. Jacoby for her wanting to be a surgeon.
- Bell operates on the 2nd richest man in China at Chastain and ends up almost killing him. His ego is so much that when Jude jumps in to help save the patient, Bell and him argue and Jude gets fired. Bell fixes the problem and takes full credit. Also, a $10,000 watch - which is illegal.
- Bell's now on Xanax. Is this where the tremor went? Was it stress induced?
- Jude's last episode - He is fired by Bell and goes to help with Doctors without Borders, but not before pushing Conrad to talk to Nic about Lily's death.
- Lane and Bell? Ewwwww! The kiss is gross! She's also pushing for him to be CEO and push Claire out.
-
Not gonna lie, this episode was hard to watch, but it makes us say please hold those dear to you close. Tell them you love them and don't say things you will regret later. You never know when it will end.
-
We will be taking a two week hiatus to deal with exhaustion and personal issues. We will return at the end of October with our two part Halloween special that discusses "Nightmares" (2x06) and "Belief System" (3x04).
-
There's a tentative start date of the second week of October to start production on season 4 of The Resident. Keep an eye on the Facebook group and Camille's Instagram for the latest news from set!
-
PATREON:
-Want to help us keep growing the podcast? Become a patron. Any dollar amount and cancel at anytime. Money will be used for better software, equipment and interviews. (https://www.patreon.com/theresidentpodcast)
-
SUBSCRIBE!
- Podbean
- iHeartRadio
- Apple Podcasts
- Spotify
- Google Play
- YouTube
-
CONTACT US!
- Email - theresidentrulebreakers@gmail.com
- Facebook - The Resident Rulebreakers Podcast or The Resident Fox Fans
- Instagram - theresidentpodcast, theresidentonfoxfans, kbcountry37
- Twitter - ResidentPodcast
-
Next podcast: We will return on October 19 to discuss episode 2x06, "Nightmares".