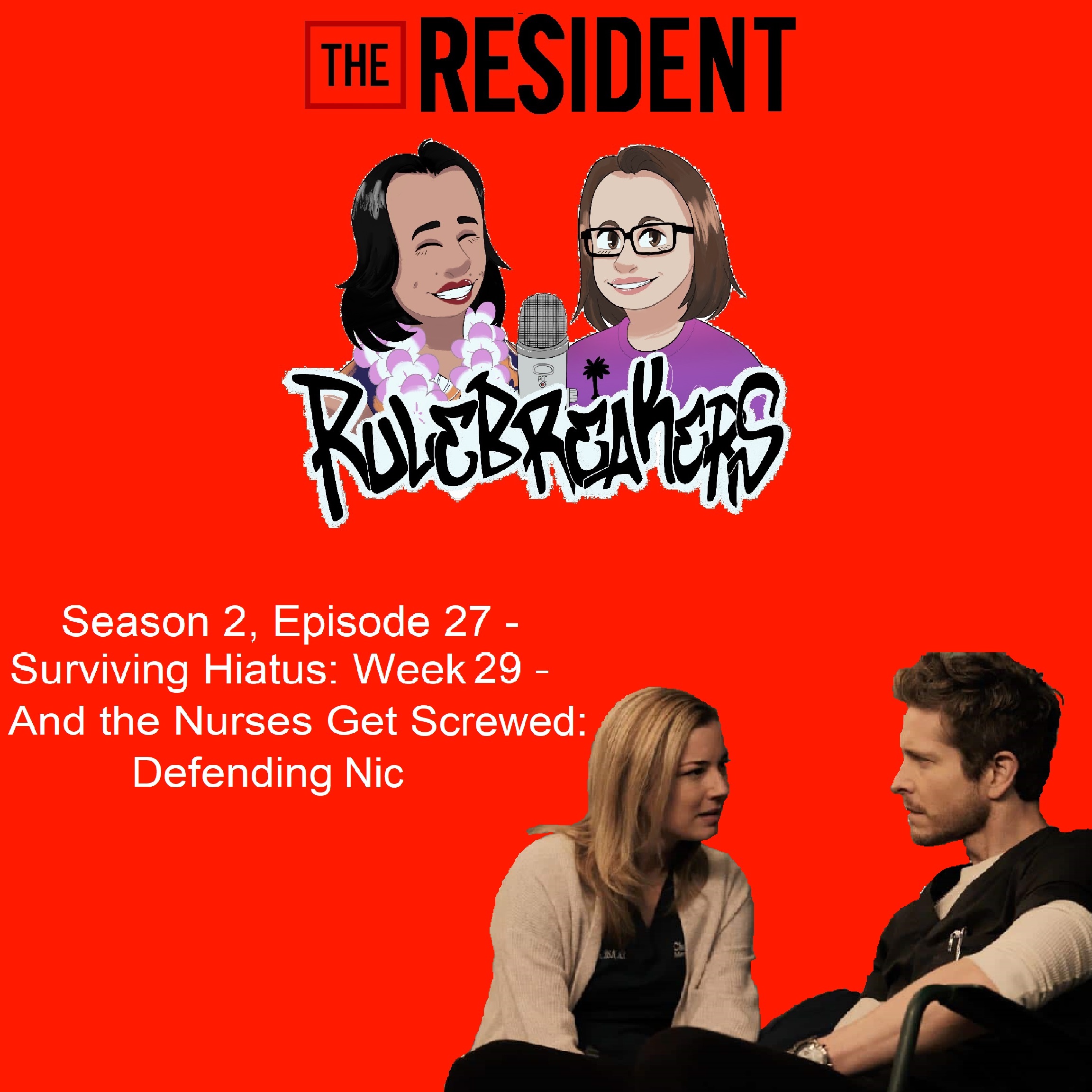 TOP NEWS:
- They filmed the #CoNic wedding this week. We don't know much, but we discuss what we do know!
- Support Manish with his new movie, Holidate. It was on Netflix as of October 28. 
- We discuss season 4's episode count being 16 episodes. It's not official, but it makes sense to us.
- What we know to be happening in season 4 that we haven't discussed on the podcast before.
-
In this podcast, we discuss episode 1x11, "And the Nurses Get Screwed". Directed by Liz Allen. Written by Elizabeth Klaviter and Peter Chen.
-
- Nic's fight to defend herself against Lane Hunter and the allegations that she caused Lily's death. 
- Conrad's a good boyfriend in his support for Nic and how he defends her, but he does more harm than good when he tries to go to Claire about their suspicions on Lane.
- Bell fires Nic at the end of the episode.
- Devon does an internist rotation in the ER and Nurse Hundley and Irving are taking bets on how he does with each patient. -
- Devon also has a patient who is a hypochondriac that eventually leads them to rat out Lane's practice of diagnosing people with cancer who don't have it.
- Bell sets a patient on fire in the OR and tries to put the blame on everyone and everything, but him. Eventually, Bell has Chu defending him and calls out Claire for her lack of funding on new equipment. The patient, however, at least can find a way to laugh about it.
- Mina reveals the truth about HODAD to Claire, but she's voted out of the CEO position and Bell replaces her, with support of Lane, before she can act on what Mina tells her.
-
This episode really sets up the plots that the season 1 finale ties up. It's the beginning of the end of Lane Hunter.
-
Please go vote, fellow Americans, if you haven't already! Exercise your civic duty to your country this week. We beg of you. Oh, and if you do plan on voting this week, prepare to stay a while and wear a mask.
-
Upcoming Podcasts:
-November 9 - "Rude Awakenings and the Raptor" - 1x12
-November 16 - "Run. Doctor, Run" - 1x13
-November 23 - "Peking Duck Day" - 3x08 - Thanksgiving
-November 30 - "Total Eclipse of the Heart" - 1x14
-
The winner of our poll last week was: The Raptor!!!
-
PATREON:
-Want to help us keep growing the podcast? Become a patron. Any dollar amount and cancel at anytime. Money will be used for better software, equipment and interviews. (https://www.patreon.com/theresidentpodcast)
Also, we have BTS of me making the graphic for this week's podcast available on Patreon - but you have to be a Patron to see it!
- 
SUBSCRIBE!
-Podbean
-Apple Podcasts
-Google Podcasts
-Spotify
-iHeartRadio
-YouTube
- 
CONTACT US!
- Email - theresidentrulebreakers@gmail.com
- Facebook - The Resident Rulebreakers Podcast or The Resident Fox Fans
- Instagram - theresidentpodcast, theresidentonfoxfans, kbcountry37
- Twitter - ResidentPodcast
-
Next week: Episode 1x12 Discussion, "Rude Awakenings and the Raptor"