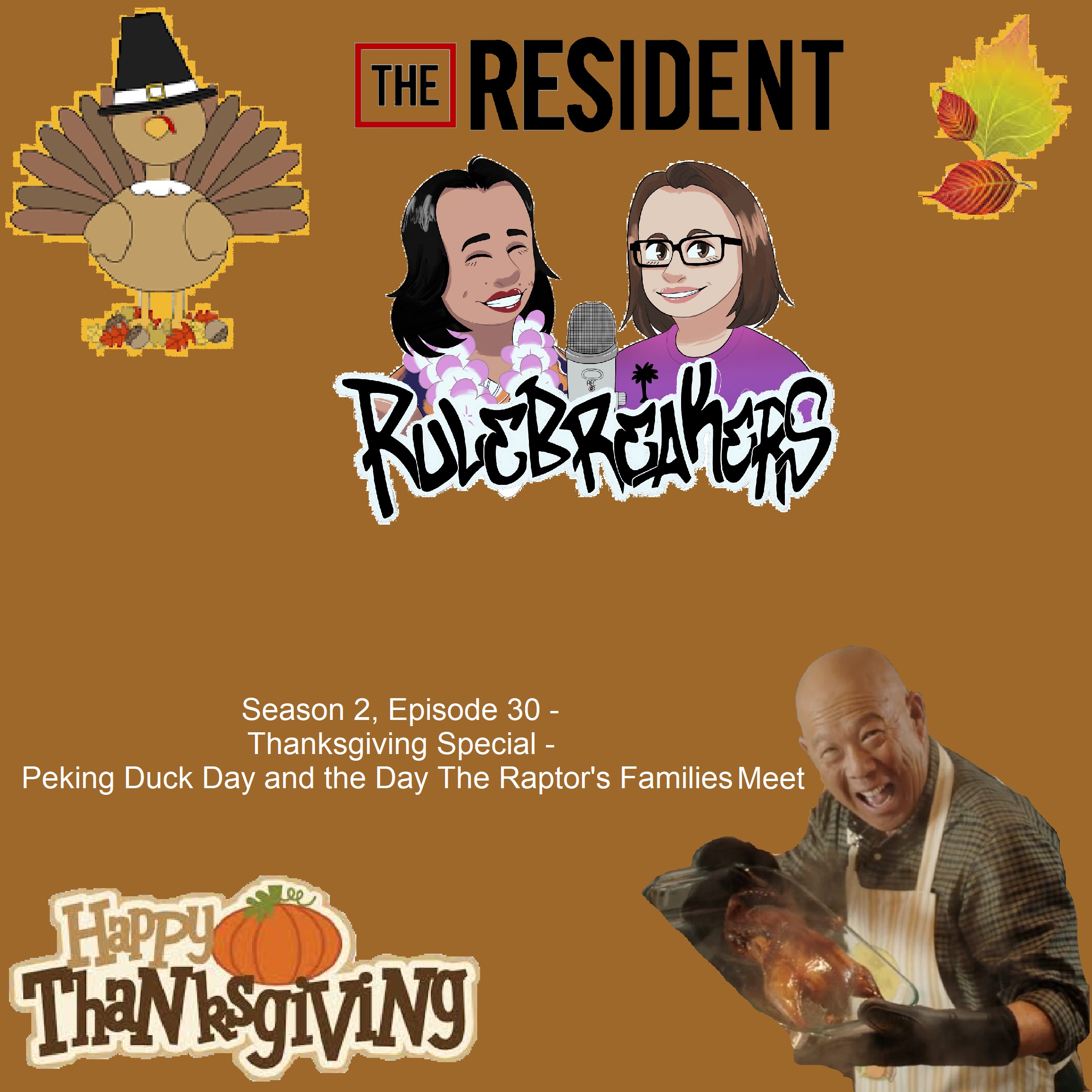 Happy Thanksgiving to all our listeners!!
-
TOP NEWS: 
- The S4 premiere promo!!
-
In this podcast, we celebrate Thanksgiving by discussing episode 3x08, "Peking Duck Day". Directed by David Crabtree and written by Elizabeth Klaviter and Michael Notarile. 
- AJ's bio and adopted families meet for the first time
- #CoNic's "sexy Thanksgiving" is interrupted by Kyle and a girl who reminds us a lot of Jessie. Kyle and Nic discuss how hard this holiday is for them, especially since it's the first one since Jessie's passing. 
- Conrad and AJ save the life of #CoNic's neighbor's son
- #Feldmore's Thanksgiving with friends and football while Jessica recovers from her wreck
- Thanksgiving is the worst holiday for injuries that send you to the ER. Be careful this year - especially with the pandemic overloading hospitals - and don't deep fry your turkey frozen.
- Logan Kim wants Torres to operate on their VIP patient who has a fully intact turkey wishbone in his throat that needs surgical removal. Bell makes Kim realize why his experience is needed during the case.
- Mina and Bell prefer work over celebrating the holiday. 
- We believe this episode fully incorporates everything Thanksgiving is: family, food and football. 
- 
PATREON:
Want to help us keep growing the podcast? Become a patron. Any dollar amount and cancel at anytime. Money will be used for better software, equipment and interviews. (https://www.patreon.com/theresidentpodcast) 
- 
Upcoming Podcasts:
- November 30 - Episode 1x14 - "Total Eclipse of the Heart"
- December 7 - Episode 3x18 - "So Long, Dawn Long"
- December 14 - Episode 3x19 - "Support System"
- We will be taking the last two weeks of 2020 off to celebrate the holidays with our families, but we will back in 2021 to discuss season 4 with everyone. We can't wait!
-
SUBSCRIBE!
- Podbean
- Apple Podcasts
- Google Podcasts
- Spotify
- iHeartRadio
- YouTube
-
- CONTACT US!
 - Email - theresidentrulebreakers@gmail.com 
 - Facebook - The Resident Rulebreakers Podcast or The Resident Fox Fans 
 - Instagram - theresidentpodcast, theresidentonfoxfans, kbcountry37 
 - Twitter - ResidentPodcast
-
 - Next week: Episode 1x14 - "Total Eclipse of the Heart" - Season 1 Finale