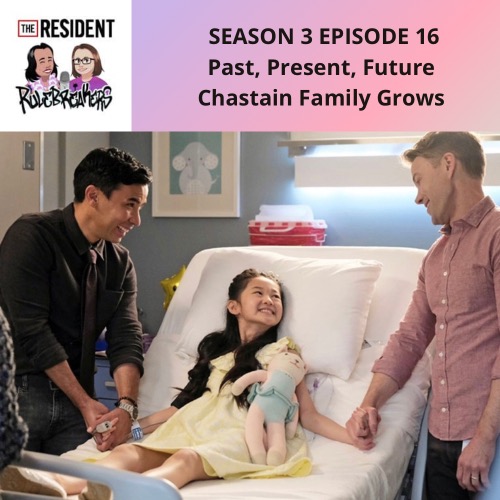 In this week's The Resident Rulebreakers, Camille and Kayla talk about episode 4x14 - "Past, Present, Future" - the season 4 finale.
-
We talk about what we dub as "baby gate" - which is the show's use of a doll in place of the #CoNic baby (aka Georgiana Grace "Gigi" Nevin Hawkins) due to a Covid restriction and the reaction it got from the fandom (to the point of eclipsing the other news of the week). We defend the use of the doll under the circumstances the show was handed, and also note that Amy Holden Jones has promised a real baby next season.
The show got renewed for season 5!!! The show will return this fall to its normal timeslot - Tuesday at 8 pm ET/PT for a full season run.
Morris is leaving the show to be the lead for another show on Fox - but will recur as Cain for a few episodes next season - we predict to wrap up his storyline.
Shaunette cast across from Harrison Ford in new Indiana Jones movie.
We hit 14,000 downloads this past week - and are so grateful for all the support!!! 
Happy belated birthday to Matt - who turned 44 this past Thursday.
-
Episode 4x14 was written by Amy Holden Jones and Andrew Chapman, directed by Rob Corn.
-
The birth of the #CoNic baby 

Camille predicted her name - and nickname 
"Baby gate" - and the BTS of it all
We love the grandpa brigade - and how they make us miss our own grandfathers - who have all passed away

AJ's mom

She had a tumor in her spine that her treatment healed but now she is numb below the waist and is having issues walking. 
Cain comes into the OR to help Kit and Billie last minute - despite his issues with AJ. A relief to us - and AJ! We can't believe it either.
Poor AJ - we sure hope his mom survives this. We can't see him put through the ringer anymore.

Cain leaving

Cain takes meeting for a job at John's Hopkins - a way for them to write Morris out. 
Still with Rose - guessing she's going with him 

Kit's moral dilemma

Devon's friend Phillip sales Bio South to a Big Pharma company because it was so successful in healing Rose. Devon and Conrad aren't happy - and neither is Kit - however Chastain is now $900 million in the black. Is it good or bad? This seems to be where season 5 will go with the show's villain.

#Kitdolph

We need them now - but predict they will stay will they/won't they for some time to come. However - we just loved Bell comforting Kit after she realizes the moral implications of saving Chastain - as well as her being there for Bell when Sammie was being adopted.

Jake, Gregg and Sammie become a family

Due to Bell pulling some strings - Sammie is adopted by Jake and Gregg in an emotional in hospital ceremony that made us both cry. We so hope to see them again next season!
Also, how cute is grandpa Bell?

The Domino Transplant

Jake's friend and Leela's friend both need livers but there aren't enough to go around - so they do a Domino transplant to save two lives.
Devon feels great about being able to help so many people - and sees the ghost of his dad knowing that due to his grief he was able to do some good in more than one life that day.

Leela and Devon

We knew it was going here - but why? Leela is so strong and amazing on her own - and also Devon's intern. We really hoped for more development on her own. We don't want her to just be Devon's love interest because she deserves so much more than that.

Billie meets her son

Billie's son shows up on her doorstep in the episode's cliffhanger - and we seriously hope that the storyline won't be dragged out next season. It's a storyline we'd love to see wrapped quickly in season 5.
-
Did this episode feel like a series finale instead of a season finale? It was written and taped months ago - so the chances are they wanted to play it safe incase renewal didn't come through.
-
Upcoming Podcasts:
- May 31 - Episode 4x09 Discussion - "Doors Opening, Doors Closing" Discussion
(Kayla was sick when it aired - so we didn't get to do the podcast that week - so we decided to go ahead and do it since it's the only episode from season 4 we haven't done.)
-
PATREON
Want to help us keep growing the podcast? Become a patron. Any dollar amount and cancel at anytime. Money will be used for better software, equipment and interviews. (https://www.patreon.com/theresidentpodcast)
-
Camille is the host of Hallmark Heartbeats - a podcast about Hallmark Channel movies. Go check it out if you love Hallmark movies. She's @hallmarkheartbeats on Instagram. You can also support her on Buy Me A Coffee: https://www.buymeacoffee.com/hmarkheartbeats, and is on all the same platforms you can find us!
-
We urge you to donate to https://www.giveindia.org/ to help India battle the crippling COVID-19 crisis, as well as in honor of AAPI Awareness month.
-
SUBSCRIBE:
- Podbean
- Apple Podcasts
- Google Podcasts
- Spotify
- iHeartRadio
- YouTube
-
CONTACT US!
- Email - theresidentrulebreakers@gmail.com
- Facebook - The Resident Rulebreakers Podcast or The Resident Fox Fans
- Instagram - theresidentpodcast, theresidentonfoxfans, kbcountry37
-Twitter - ResidentPodcast
-
Happy early Memorial Day to our fellow Americans!
Next week - Episode 4x09 - "Doors Opening, Doors Closing" Discussion