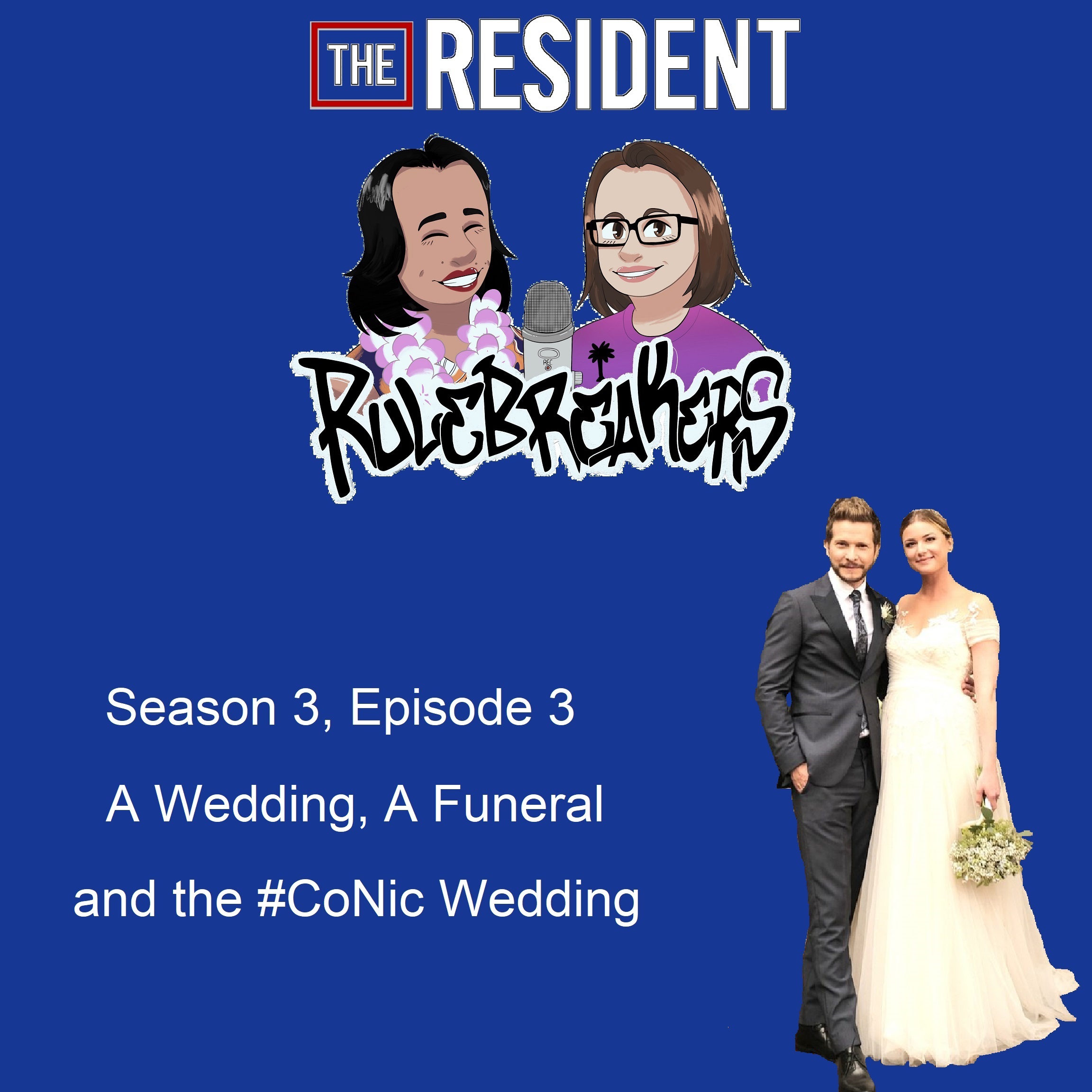 This week, Camille and Kayla welcome their fellow co-admin from the Resident Fox Fans Facebook group, Brittany, to join them in discussing episode 4x01 - "A Wedding, A Funeral". Thanks for joining us this week!
-
Episode 4x01 was written by Daniela Lamas & Eric I. Lu and directed by Rob Corn.
(This outline isn't in the exact order of the podcast - but all these topics are covered.)
Topics:
- Loose ends from season 3
   - Conrad declines Kim's offer
- Covid 
   - Our worry for Nurse Hundley
   - The PPE shortage and racial bias against Asians. It's a little too late for us to like Kim though.
   - Elective surgeries are canceled and the surgeons except Cain jump into the front lines.
   - Cain lies to a patient about needing surgery, and our hatred for him grows as his greed and self absorption grow.
   - Devon's dad passes from Covid - and we talk how the working class can't afford to stay home and have to risk their lives to pay bills
   - Kit gets Covid and Bell is there for her all the way!
- The Wedding
   - Conrad and Nic tie the knot, after postponing the first wedding for Covid.
   - Nic honors her mom and sister on her wedding day
   - What's with Mina's bridesmaid's dress?
   - Marshall stands in for Devon as best man so he can attend his father's memorial.
   - Why the cliche looks by Mina to AJ?
- Minator
   - THAT KISS!!! They are together now!!!
- Devon goes to his dad's memorial
   - Him watching his dad pass in a video on the plane to the memorial tugs at the heart. 
-
- The Ratings 
-
PATREON: Want to help us keep growing the podcast? Become a patron. Any dollar amount and cancel at anytime. Money will be used for better software, equipment and interviews. (https://www.patreon.com/theresidentpodcast)
-
Upcoming Podcasts:
- January 25 - Episode 4x02 Discussion - "Mina's Kangaroo Court" -Patreon Early  - other wise will release normal day - Guest co-host Brittany in for Camille
- February 1 - Episode 4x03 Discussion - "The Accidental Patient" 
- February 8 - Episode 4x04 Discussion - "Moving On and Mother Hens"
-
SUBSCRIBE!
- Podbean
- Apple Podcasts
- Google Podcasts
- Spotify
- iHeartRadio
- YouTube
-
CONTACT US!
 - Email - theresidentrulebreakers@gmail.com 
 - Facebook - The Resident Rulebreakers Podcast or The Resident Fox Fans 
 - Instagram - theresidentpodcast, theresidentonfoxfans, kbcountry37, bflaggstanley 
 - Twitter - ResidentPodcast 
-
Episode 4x02, "Mina's Kangaroo Court",  airs Tuesday, January 19, 2021 at 8 PM ET on Fox. It's already on Hulu, but if you don't have that option, please watch live!
Preferably within a week of airing so it can count in the ratings!! Even the Hulu streams count!! Please watch legally as we need the ratings to get renewal. We will only tell you to watch with a legal source.
-
Next week: Episode 4x02, "Mina's Kangaroo Court" Discussion  (will be on Patreon early)