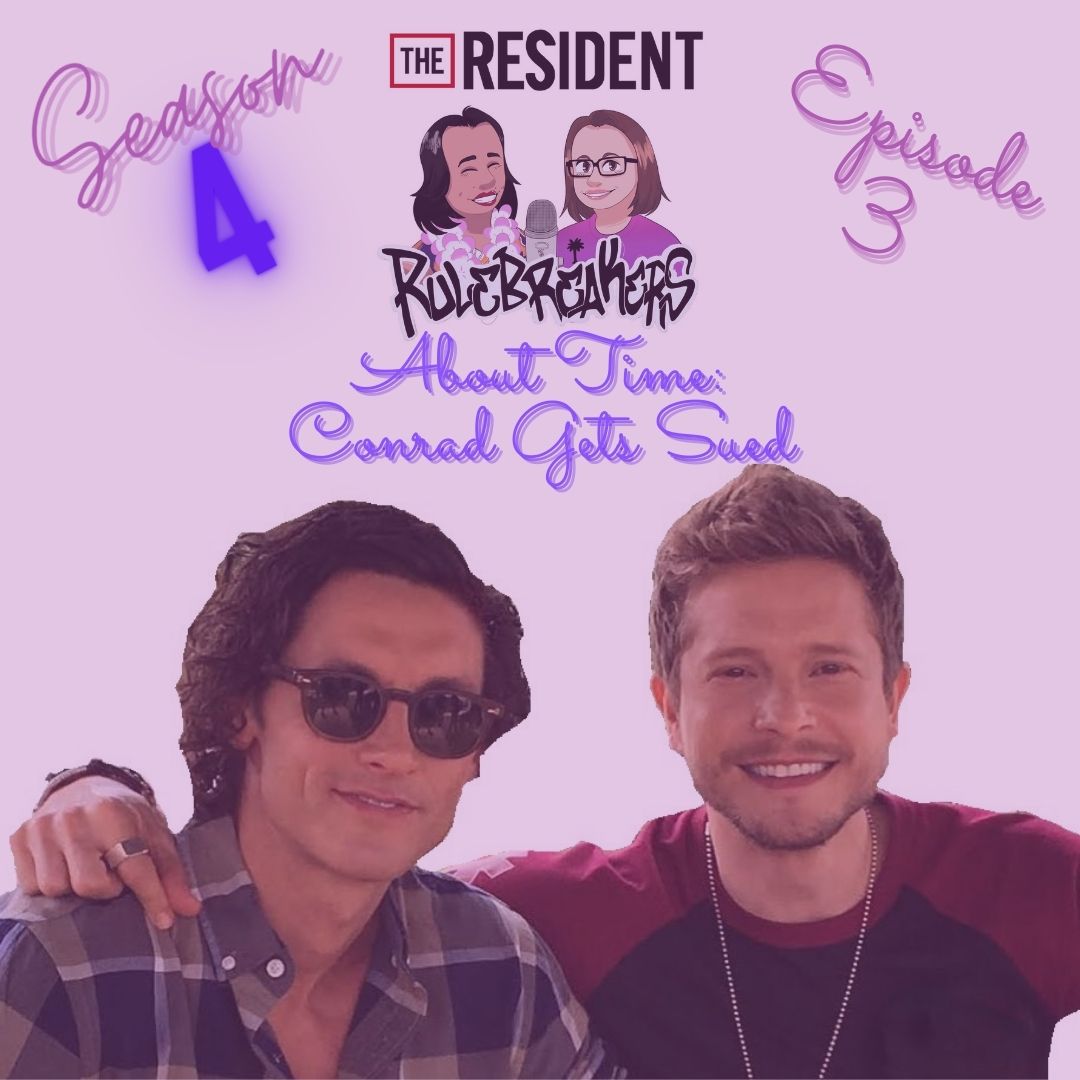 In this episode of The Resident Rulebreakers, we discuss episode 2x04 of The Resident, "About Time". This episode features the first appearance of two major characters (Kit (Jane Leeves) & Gordon Page (Michael Weston)) as well as some notable guest stars (Tanc Sade, Jenna Dewan, Colin Hay).
Written by Marc Halsey and directed by Geary McLeod.
-
Season 5 filming begins July 12th! 
Fox should announce the official premiere date in August, but we predict one of the last two Tuesdays in September.
*Watch our social media or the group for updates from set and the official premiere date.
-
Topics we discuss:
The Music Festival
The Gilmore Connection
Conrad Gets Sued
Gordon Page
Julian
Colin Hay
Kit (and our love of #Kitdolph)
#Minator (and Mina standing up for herself)
#CoNic
Nolan calls Conrad out 
Irving gives out a statistic about how often ER doctors get sued
-
Upcoming:
July 26 - Episode 2x05 Discussion - "The Germ"
August 9 - Episode 2x07 Discussion - "Trial and Error"
August 23 - Episode 2x08 Discussion - "Heart in a Box"
September 6 - Episode 2x09 Discussion - "The Dance"
*The podcast will return to a weekly podcast when the show returns in September.
-
PATREON
Want to help us keep growing the podcast? Become a patron. Any dollar amount and cancel at anytime. Money will be used for better software, equipment and interviews. (https://www.patreon.com/theresidentpodcast)
-
Camille is the host of Hallmark Heartbeats - a podcast about Hallmark Channel movies. Go check it out if you love Hallmark movies. She's @hallmarkheartbeats on Instagram. You can also support her on Buy Me A Coffee: https://www.buymeacoffee.com/hmarkheartbeats, and is on all the same platforms you can find us!
-
SUBSCRIBE:
- Podbean
- Apple Podcasts
- Google Podcasts
- Spotify
- iHeartRadio
- YouTube
-
CONTACT US:
- Email - theresidentrulebreakers@gmail.com
- Facebook - The Resident Rulebreakers Podcast or The Resident Fox Fans
- Instagram - theresidentpodcast, theresidentonfoxfans, kbcountry37
- Twitter - ResidentPodcast
- 
In two weeks, we will be discussion episode 2x05, "The Germ".