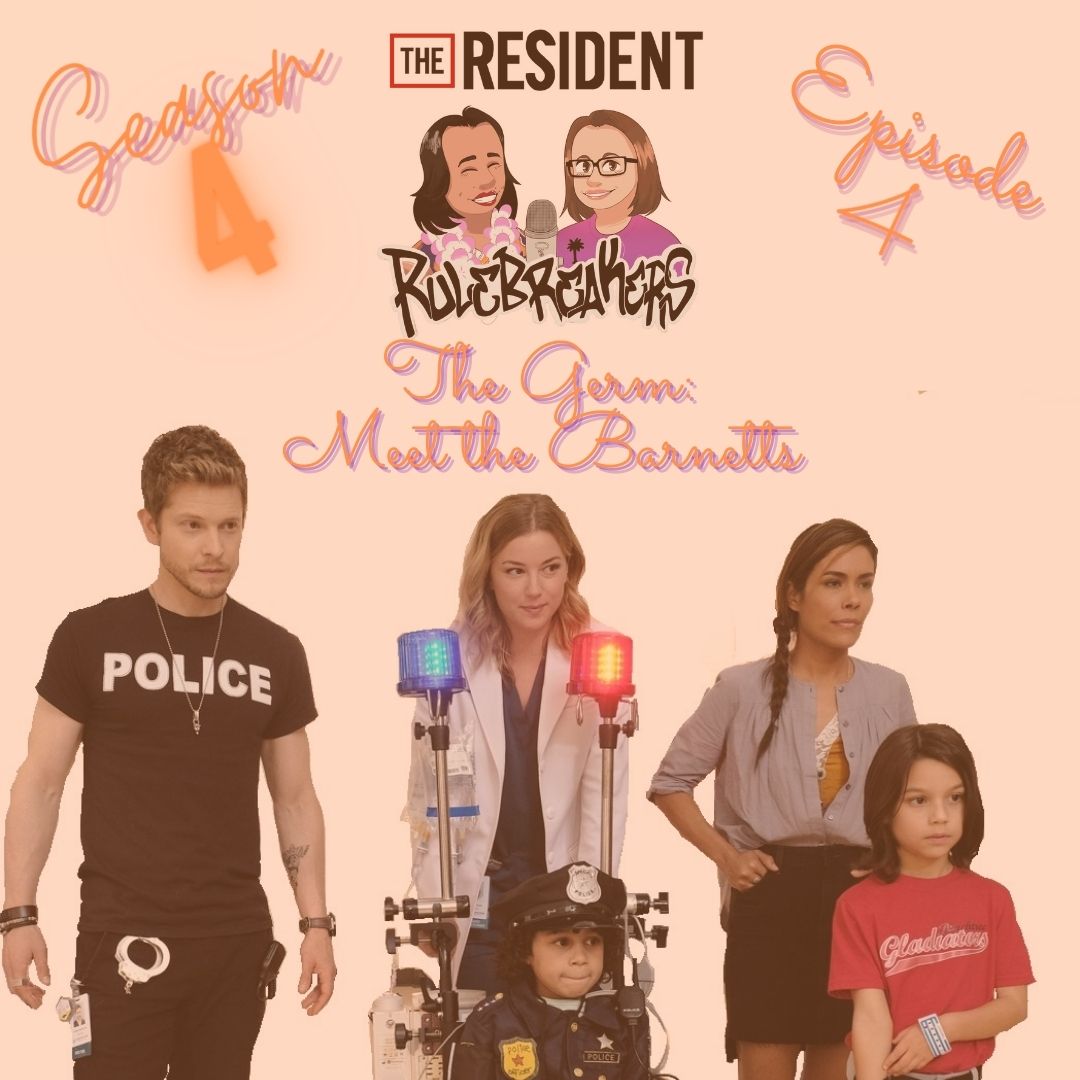 This week on The Resident Rulebreakers, we discuss episode 2x05 - "The Germ".
Written by Elizabeth Klaviter and Jen Klein, Directed by Jann Turner
-
Production has started on season 5! Check out the Facebook group for BTS from the cast and Amy from set.
No official premiere date set yet! We expect it to be a few more weeks before we know - but just know we are still predicting the one of the last two Tuesdays in September.
We hit 15,000 downloads since we started the podcast in the past two weeks! We also had 1,000 downloads in just 54 days. Thanks for the continued support.
-
Topics we discuss from episode 2x05 are:
Meet the Barnetts (and we recall events from our childhoods that allow us to connect to both Henry and Jasper) 
The Chastain crew comes through for the Barnett family and makes Jasper's birthday wish come true and a cherished memory for his mom and brother (We cry so hard when Jasper dies. *bawl eyes out*)
Kit and AJ agree on something (they hate being forced to use devices they know nothing about)
AJ accidentally fractures an arm bone and has to wear a splint (Malcolm's performance of the scene where it happens never fails to make us laugh during such a sad episode)
A Gilmore Girls connection - Emily Kuroda (Mrs. Kim) guest stars as Penny - Kit's patient
Bradley's back for a heart valve (and his reaction to AJ is hilarious)
Devon and Julian (Bradley and Mina know something is up and they don't like it)
There's a hint that Jessica and Irving's relationship has already begun when Jessica provides a set of fully functioning handcuffs for the police party for Jasper
We're ok with #CoNic being in the background in this episode (sometimes their relationship really takes over the show)
-
Upcoming:
August 9 - Episode 2x07 Discussion - "Trial and Error"
August 23 - Episode 2x08 Discussion - "Heart in a Box"
September 6 - Episode 2x09 Discussion - "The Dance"
*The podcast will return to a weekly podcast when the show returns in September.
-
PATREON
Want to help us keep growing the podcast? Become a patron. Any dollar amount and cancel at anytime. Money will be used for better software, equipment and interviews.  You also get access to new podcast episodes hours before we release it elsewhere.(https://www.patreon.com/theresidentpodcast)
-
Camille is the host of Hallmark Heartbeats - a podcast about Hallmark Channel movies. Go check it out if you love Hallmark movies. She's @hallmarkheartbeats on Instagram. You can also support her on Buy Me A Coffee: https://www.buymeacoffee.com/hmarkheartbeats, and is on all the same platforms you can find us!
-
SUBSCRIBE:
- Podbean
- Apple Podcasts
- Google Podcasts
- Spotify
- iHeartRadio
- YouTube
-
CONTACT US:
- Email - theresidentrulebreakers@gmail.com
- Facebook - The Resident Rulebreakers Podcast or The Resident Fox Fans
- Instagram - theresidentpodcast, theresidentonfoxfans, kbcountry37
- Twitter - ResidentPodcast
*Reminder: Cyber bullying is NOT tolerated and will get you blocked and banned from our social media.*
-
In two weeks, we will be discussing episode 2x07, "Trial and Error".