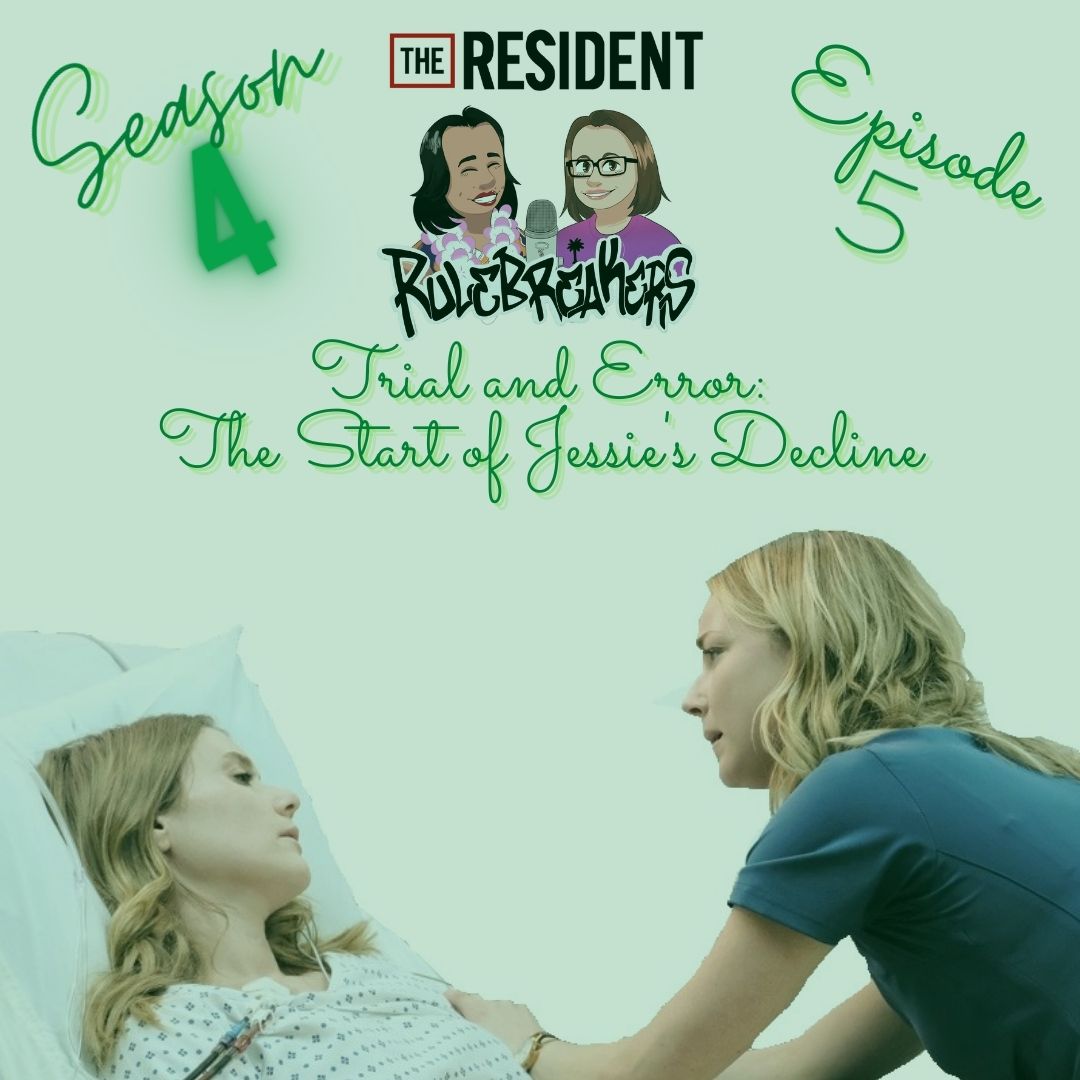 This week on The Resident Rulebreakers, we discuss episode 2x07 - "Trial and Error". 
Written by Chris Bessounian and Tianna Majumdar-Langham; Directed by Rob Greenlea
-
A season 5 premiere date has been set! It will premiere on September 21, 2021 at 8 PM on Fox. 
*Keep an eye on our social media/the group for more information as we get closer to the premiere airing.*
-
In this discussion:
Jessie and her friend, John, participate in a drug trial - with horrible consequences 

This is the start of Jessie's health issues that eventually kill her at the end of the season. John dies in this episode and Bell giving the death notice makes Kayla cry.)
Oh, and good Bell begins to show up
Conrad was there for Nic through it all, which proves how strong they are - and the writers forgot this later in the season

Devon and Julian kiss 

And we both ask - WTF?!?!? It's all that's needed here

The Bollywood Dance/Devon's "Bachelor Party"/The Bar

A botched Bachelor Party turns in a night of karaoke and Bollywood dancing at the bar 
After a comment from Kit about Bell getting a high end prostitute - we are reminded that Bell was arrested for solicitation earlier in the season

Metal Joint Replacements Can Kill You

There's a PSA in this plot to say know what your surgeon is putting in you when you get a joint replacement - because a metal one can poison you from the inside out

We Miss Bad Ass Mina

The Mina of this episode is the one we will miss the most. Especially the lines like "Don't call me Princess" or "I'm not your Queen"
Also, we love how she introduced Conrad and AJ to her hip replacement patient
-
Upcoming:
- August 23 - Episode 2x08 Discussion - "Heart in a Box"
- September 6 - Episode 2x09 Discussion - "The Dance"
*We will transition from season 4 to season 5 of the podcast*
- September 20 - News Rundown
- September 27 - Episode 5x01 Discussion - Episode Title TBA
-
PATREON
Want to help us keep growing the podcast? Become a patron. Any dollar amount and cancel at anytime. Money will be used for better software, equipment and interviews.  You also get access to new podcast episodes hours before we release it elsewhere.(https://www.patreon.com/theresidentpodcast)
-
Camille is the host of Hallmark Heartbeats - a podcast about Hallmark Channel movies. Go check it out if you love Hallmark movies. She's @hallmarkheartbeats on Instagram. You can also support her on Buy Me A Coffee: https://www.buymeacoffee.com/hmarkheartbeats, and is on all the same platforms you can find us!
-
SUBSCRIBE:
- Podbean
- Apple Podcasts
- Google Podcasts
- Spotify
- iHeartRadio
- YouTube
-
CONTACT US:
- Email - theresidentrulebreakers@gmail.com
- Facebook - The Resident Rulebreakers Podcast or The Resident Fox Fans
- Instagram - theresidentpodcast, theresidentonfoxfans, kbcountry37
- Twitter - ResidentPodcast
*Reminder: Cyber bullying is NOT tolerated and will get you blocked and banned from our social media.*
-
In two weeks, we will be discussing episode 2x08, "Heart in a Box".