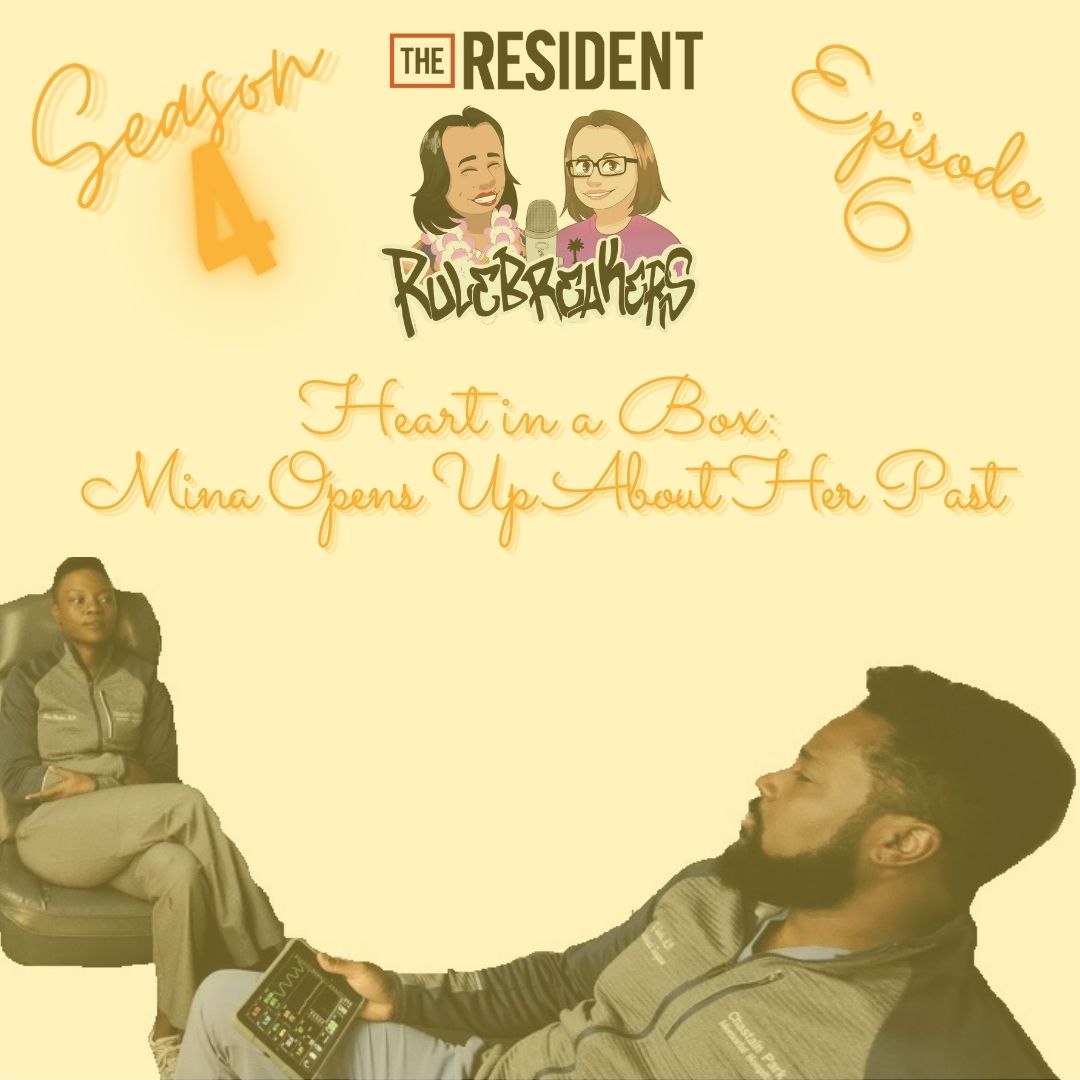 This week, Kayla and Camille discuss episode 2x08 of The Resident - "Heart in a Box".
Written by Marqui Jackson and Joshua Troke
Directed by James Whitmore Jr.
Original Airdate: November 19, 2018
-
Recent News:
- Happy belated birthday to:
Radek Lord (August 5)
Bruce Greenwood (August 12)
Malcolm-Jamal Warner (August 18)
Anuja Joshi (August 19)
- Season 5 News
The season 5 poster
The episode 5x01 promo 
We address the rumors about Emily VanCamp
The TV Line Article with the quote from show runner Peter Elkhoff
The fact the we still have no title or photos for the premiere - projected date for that is around the first of September.
-
Episode 2x08 discussion:
#Minator 

Mina opens up to AJ about the death of her sisters
AJ admits to Nic his feelings for Mina - but won't act on them for various reasons. We discuss the speed of #Minator's relationship being sped up due to Shaunette's exit from the show.
"Broken Heart Syndrome" and the "Heart in a Box" surgery

#CoNic

Despite working opposite sifts, they make time for each other
Nic also worries Conrad is too attached to Henry

Henry

Has a seizure playing baseball and they put him on a third drug which triggers QuoVadis to ask Julian to pitch the VNS to Henry's mom - we wonder if this actually happens. 
Conrad is against the VNS - but Zoey is desperate to see her son not have seizures. Especially since she has already lost one son. QuoVadis manipulated Zoey into this.
Kayla reminds everyone this is the extreme situation of Epilepsy and surgery is a last resort. Meds are the first go to always. She also rants about them calling seizure meds toxic - not all of them are - but also what is the alternative to them - a very unlivable life.

Julian learns the truth about QuoVadis
Lane Hunter's return and her blackmailing Bell with a sex tape to get out of jail
Devon's horrible day

He has a racist patient, gets thrown up on and punched by a meth head, but still loves his job because it's his calling.
His personal life is in shreds. He decides to stay in Atlanta instead of follow Priya to San Francisco - but also can't stop thinking of Julian. This is the last nail in the coffin for the Devon/Priya relationship.
Camille has a rant about racism and healthcare.
-
Upcoming Podcasts:
September 6 - Episode 2x09 Discussion - "The Dance"
September 20 - News Rundown
September 27 - Episode 5x01 Discussion - Title TBA
* We have reached out to Fox about an interview prior to the premiere - if we get that confirmed - we hope to release it on September 13th. Also, our 5th season of podcasts will start on September 20th - unless we get an interview - then it will be September 13th. *
-
PATREON
Want to help us keep growing the podcast? Become a patron. Any dollar amount and cancel at anytime. Money will be used for better software, equipment and interviews.  You also get access to new podcast episodes hours before we release it elsewhere.(https://www.patreon.com/theresidentpodcast)
-
Camille is the host of Hallmark Heartbeats - a podcast about Hallmark Channel movies. Go check it out if you love Hallmark movies. She's @hallmarkheartbeats on Instagram. You can also support her on Buy Me A Coffee: https://www.buymeacoffee.com/hmarkheartbeats, and is on all the same platforms you can find us!
-
SUBSCRIBE:
- Podbean
- Apple Podcasts
- Google Podcasts
- Spotify
- iHeartRadio
- YouTube
-
CONTACT US:
- Email - theresidentrulebreakers@gmail.com
- Facebook - The Resident Rulebreakers Podcast or The Resident Fox Fans
- Instagram - theresidentpodcast, theresidentonfoxfans, kbcountry37
- Twitter - ResidentPodcast
*Reminder: Cyber bullying is NOT tolerated and will get you blocked and banned from our social media.*
-
In two weeks, we will be discussing episode 2x09, "The Dance".