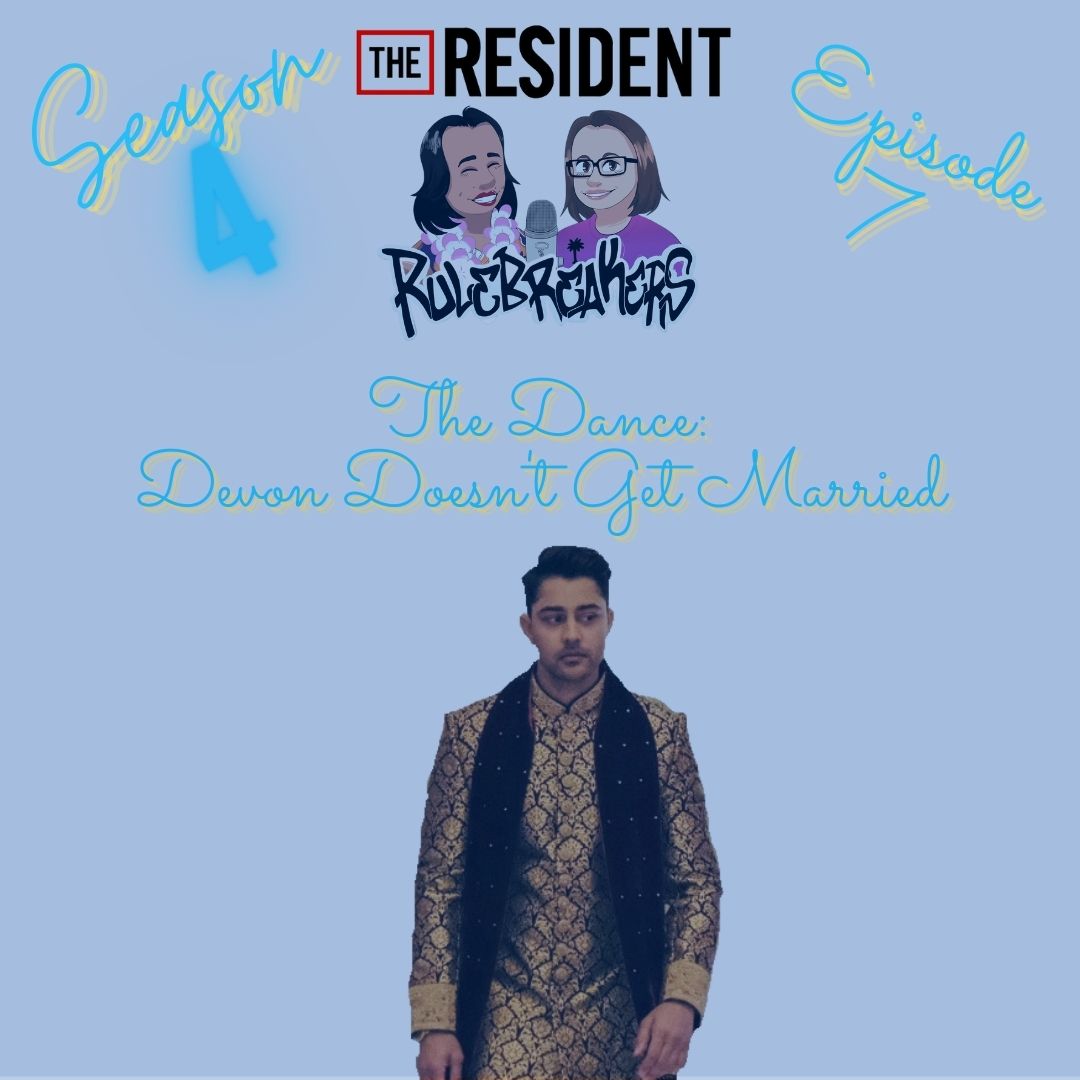 In this episode of The Resident Rulebreakers, Kayla and Camille discuss episode 2x09 - "The Dance", as well as all the recent news about Emily VanCamp.
Written by Amy Holden Jones and Andrew Chapman, Directed by Rob Corn.
Original Airdate: November 26, 2018
-
Recent News:
- Emily and her husband, Josh, had a baby girl that they named Iris. Actual birthdate is unknown.
- After revealing she has given birth, news broke that Emily has decided to leave The Resident, which leaves fans wondering what happens to Nic.
- The new promo released in the past week somewhat hints at the route the show will probably take with Nic's fate.
- Amy Holden Jones reveals that Rob Corn is the director of 5x01.
- There is no official press release or photos from Fox yet for the premiere - but we predict that that information will be revealed SOON.
-
Episode 2x09 Discussion:
- Devon Doesn't Get Married
Since before the pilot, Devon has been engaged to Priya - now it's time to get married.
Devon has second thoughts after his infamous kiss with Julian and a conversation with his mom.
He decides to call off the wedding - which causes Devon and Priya to have one last fight where we believe both had valid reasons for feeling how they felt. 
The wedding outfits designed for this episode were so beautiful.
Irving as best man and Bradley as a groomsman. *LOVE IT!*
As much as Julian didn't want to be the reason Devon doesn't marry Priya - she is THE reason - and there's no denying that she didn't willingly accept being kissed by Devon.
We also both agree that if it had happened, a divorce would have also happened very soon after - especially with Priya deciding to work on the west coast.
- Julian
In 2x08 - Julian comes to the realization that QuoVadis is a fraudulent company and she decides not only to quit her job, but blow the whistle on it to the FDA. 
In one of the episode's cliffhangers, Julian is ran off the road by Gordon Page's henchmen - and leaves us hanging for 9 episodes wondering what happened to her. We are very glad they resolved this plot.
- Marshall
Marshall reveals he has Chron's Disease after he has a flare up that causes him to need emergency surgery - and the doctor on call is Bell. An option both Marshall and Conrad dislike.
This is the other cliffhanger for the episode - and while Marshall survives the surgery, his conversation with Conrad about Conrad's mother is one that after all this time still hasn't been resolved. We'd love to see this storyline have closure.
Nic is the push for Conrad to talk to Marshall - and we are all for it. 
- The Old Man
Conrad, AJ and Mina treat an older man who has a heart murmur. 
Conrad envies the relationship the man has with his daughter and grandson - and makes that point to Nic very clearly.
AJ and Mina do surgery to repair the murmur and make it to Devon's "wedding" with time to spare.
The man just wants to get back to his charity work in Nicaragua.
- The Free Clinic
Nic and Mina are trying to get Bell on board with the free clinic - especially since Chastain has to do community outreach to remain tax exempt.
Kayla wishes they would bring a form of the free clinic back - but wonders how it would work now that Chastain is a public hospital.
- Micah
Run, Micah, Run. If we were him - we'd run after hearing the comments Mina makes about marriage and having kids in this episode. Kind of ironic he proposes to her 5 episodes later - thankfully he realized it wasn't going to work out.
- Grayson
Loved seeing Grayson in this episode, but seeing him makes us really want him to return to The Resident as Kit's assistant.
- Bell
Bell is working hard to make sure Chastain doesn't have its image damaged by Lane Hunter who is blackmailing him with a sex tape for her bail money.
Unfortunately, Bell goes to Gordon Page for the bail money and the hospital goes bankrupt because of it. This storyline finally was resolved this past season with Chastain going public. Seriously, Bell? What were you thinking?
We don't miss this version of Bell at all.
-
Upcoming:
- September 20 - News Rundown
- September 27 - Episode 5x01 Discussion
- October 4 - Episode 5x02 Discussion
- October 11 - Episode 5x03 Discussion
- October 18 - Episode 5x04 Discussion
- October 25 - Episode 5x05 Discussion
*This is our last podcast of our 4th season. Our 5th season of podcasts starts September 20th - and will follow season 5 of The Resident.*
-
PATREON
Want to help us keep growing the podcast? Become a patron. Any dollar amount and cancel at anytime. Money will be used for better software, equipment and interviews.  You also get access to new podcast episodes hours before we release it elsewhere.
In honor of The Resident returning this month, if you become our patron between September 1-20 - you will get a sticker from Patreon with our logo on it. You get this sticker no matter what you pledge. Current patrons will also get this sticker at the end of the promotion.
(https://www.patreon.com/theresidentpodcast)
-
Camille is the host of Hallmark Heartbeats - a podcast about Hallmark Channel movies. Go check it out if you love Hallmark movies. She's @hallmarkheartbeats on Instagram. You can also support her on Buy Me A Coffee: https://www.buymeacoffee.com/hmarkheartbeats, and is on all the same platforms you can find us!
-
SUBSCRIBE:
- Podbean
- Apple Podcasts
- Google Podcasts
- Spotify
- iHeartRadio
- YouTube
-
CONTACT US:
- Email - theresidentrulebreakers@gmail.com
- Facebook - The Resident Rulebreakers Podcast or The Resident Fox Fans
- Instagram - theresidentpodcast, theresidentonfoxfans, kbcountry37
- Twitter - ResidentPodcast
*Reminder: Cyber bullying is NOT tolerated and will get you blocked and banned from our social media.*
-
In two weeks: News Rundown