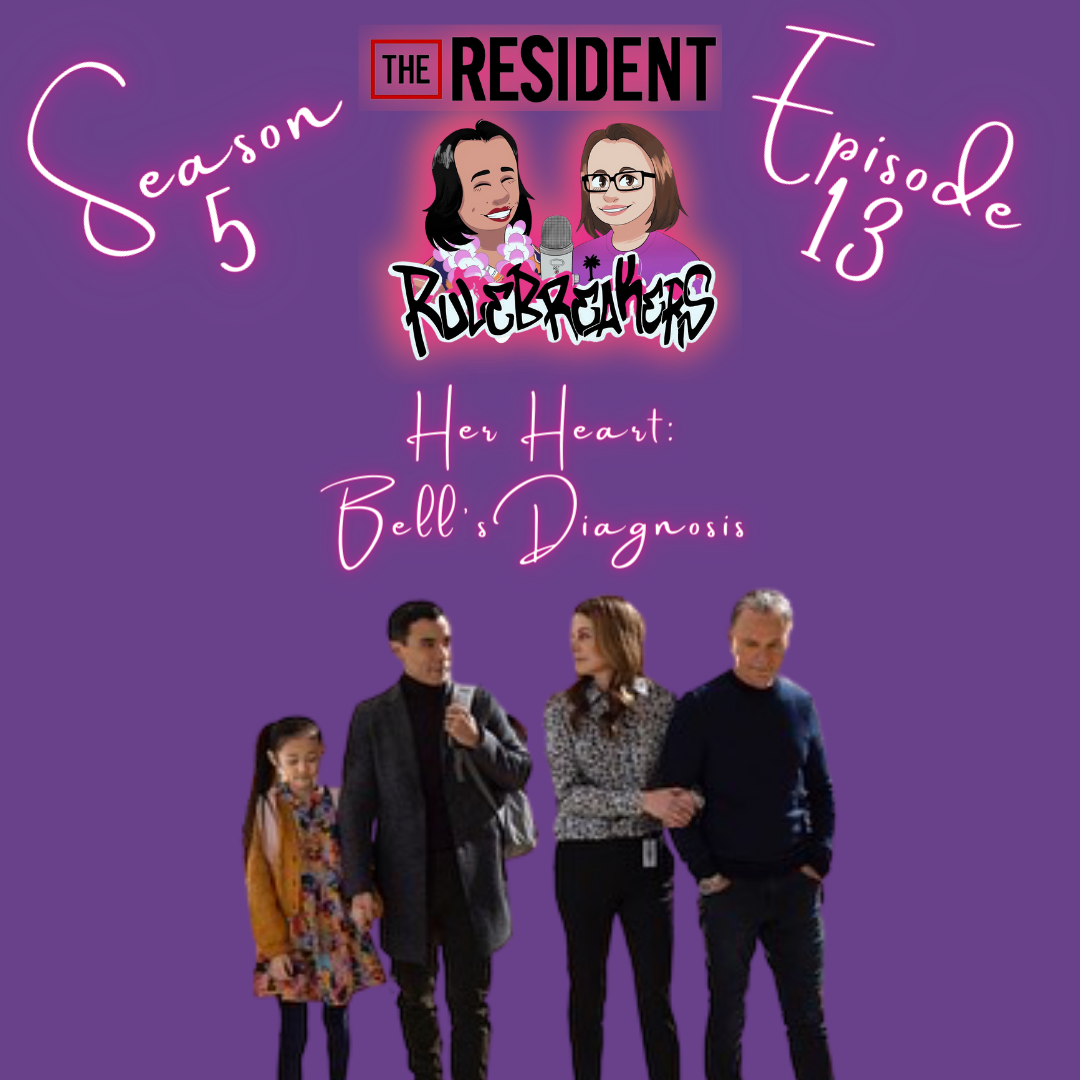 Welcome to another episode of #TheResidentRulebreakers!
Camille is back, and she has a question for our listeners: Does her voice sound different?
-
This week, we discuss episode 5x11, "Her Heart".
Written by Marc Halsey & Eric Lu; Directed by Kelli Williams
-
Topics of discussion:
- Bell's diagnosis - and how getting proper treatment for his MS will still allow him to live a normal and productive life to the point of him performing surgery again. We are also excited to see how he navigates his journey of this new diagnosis.
- How living with disabilities our entire lives allow both of us to see this from a different POV and talk about how #TheResident has a platform to help erase the stigma the disabled community has on it as a whole by showing Bell living a productive life despite his disability.
- #KitBell - and how Kit doesn't let Bell push her away after his diagnosis
- Jake and Sammie return - but we miss Gregg
- Lunar New Year and how amazing it was to show this part of Asian culture to the viewers - especially since the airdate was February 1 - the date of Lunar New Year in 2022.
- Sammie and Gigi's connection is adorable
- Nic's heart returns in the chest of her organ donor - and also brings with it a conflict of interest for Conrad. We can't say we didn't shed a few tears when Conrad and Gigi listen to the heart though.
- Leela's Surgical Rotation - and if it was right of Billie to note to Leela that if she chose this specialty that her chance of having kids would be disrupted. It's not up to Devon. It's ultimately up to Leela. 
- #Deela - We love how supportive they are of each other - which is why Kayla believes that Devon will support Leela in whatever specialty she chooses.
- Devon's Clinical Trial starts - and AJ tries to get his mom in it. When Devon says she doesn't qualify - AJ gets angry and ultimately sticks Conrad on him to get him to change his mind. Conrad eventually sides with Devon. Carol is actually relieved that she doesn't have to endure the trial. We feel this storyline will be very emotional going forward.
- Cade Has No Past - and when Irving enquires to Cade about her lack of online presence, she just shrugs it off. Words from producers make us think we will know very soon why.
- Cade learns about Nic's death - and shows sympathy for Conrad. 
-
UPCOMING EPISODES:
- Episode 5x12 - "Now You See Me" synopsis & photos - Airs February 8
- Episode 5x13 - "Viral" synopsis - Airs February 15
- Episode 5x14 - "Hell in a Handbasket" synopsis - Manish directed - Airs February 22
Episodes with titles, but no synopsis:
- Episode 5x15 - "In for a Penny" - Airs March 8
- Episode 5x16 - "Drilling for Happiness" - Airs March 29
*NO NEW EPISODES ON MARCH 1, MARCH 15 OR MARCH 22*
-
UPCOMING PODCASTS:
- February 14 - Episode 5x12 Discussion - "Now You See Me" (and Valentine's Day celebration with our favorite romantic moments from the show)
- February 21 - Episode 5x13 Discussion - "Viral"
- February 28 - Episode 5x14 Discussion - "Hell in a Handbasket" (and celebration of Kayla's birthday)
- March 14  - Episode 5x15 Discussion - "In for a Penny" 
- April 4 - Episode 5x16 Discussion - "Drilling for Happiness" (and celebration of 3 years of being active)
-
PATREON
Want to help us keep growing the podcast? Become a patron. Any dollar amount and cancel at anytime. Money will be used for better software, equipment and interviews. You also get access to new podcast episodes hours before we release it elsewhere.
Right now, Kayla NEEDS to replace her laptop that she uses to edit the podcast. This money for the foreseeable future, will be used to help replace the computer.
(https://www.patreon.com/theresidentpodcast)
-
Camille is the host of Hallmark Heartbeats - a podcast about Hallmark Channel movies. Go check it out if you love Hallmark movies. She's @hallmarkheartbeats on Instagram. You can also support her on Buy Me A Coffee: https://www.buymeacoffee.com/hmarkheartbeats, and is on all the same platforms you can find us.
-
SUBSCRIBE:
- Podbean
- Apple Podcasts
- Google Podcasts
- iHeartRadio
- YouTube
- Amazon Music
*DUE TO SPOTIFY SPREADING MISINFORMATION ABOUT COVID-19, WE CAN'T ALLOW THE PODCAST TO BE ON THERE ANYMORE. WE HAVE DECIDED TO REMOVE IT TO DUE TO THE NATURE OF THE PODCAST AND THE STANCE THAT BOTH THE RESIDENT HAS TAKEN AND OUR OWN PERSONAL BELIEFS ON THIS TOPIC.*
-
CONTACT US:
- Email - theresidentrulebreakers@gmail.com
- Facebook - The Resident Rulebreakers Podcast or The Resident Fox Fans
- Instagram - theresidentpodcast, theresidentonfoxfans, kbcountry37
- Twitter - ResidentPodcast
*Reminder: Cyber bullying is NOT tolerated and will get you blocked and banned from our social media.*
-
Next podcast: Episode 5x12 Discussion - "Now You See Me" & Valentine's Day Celebration