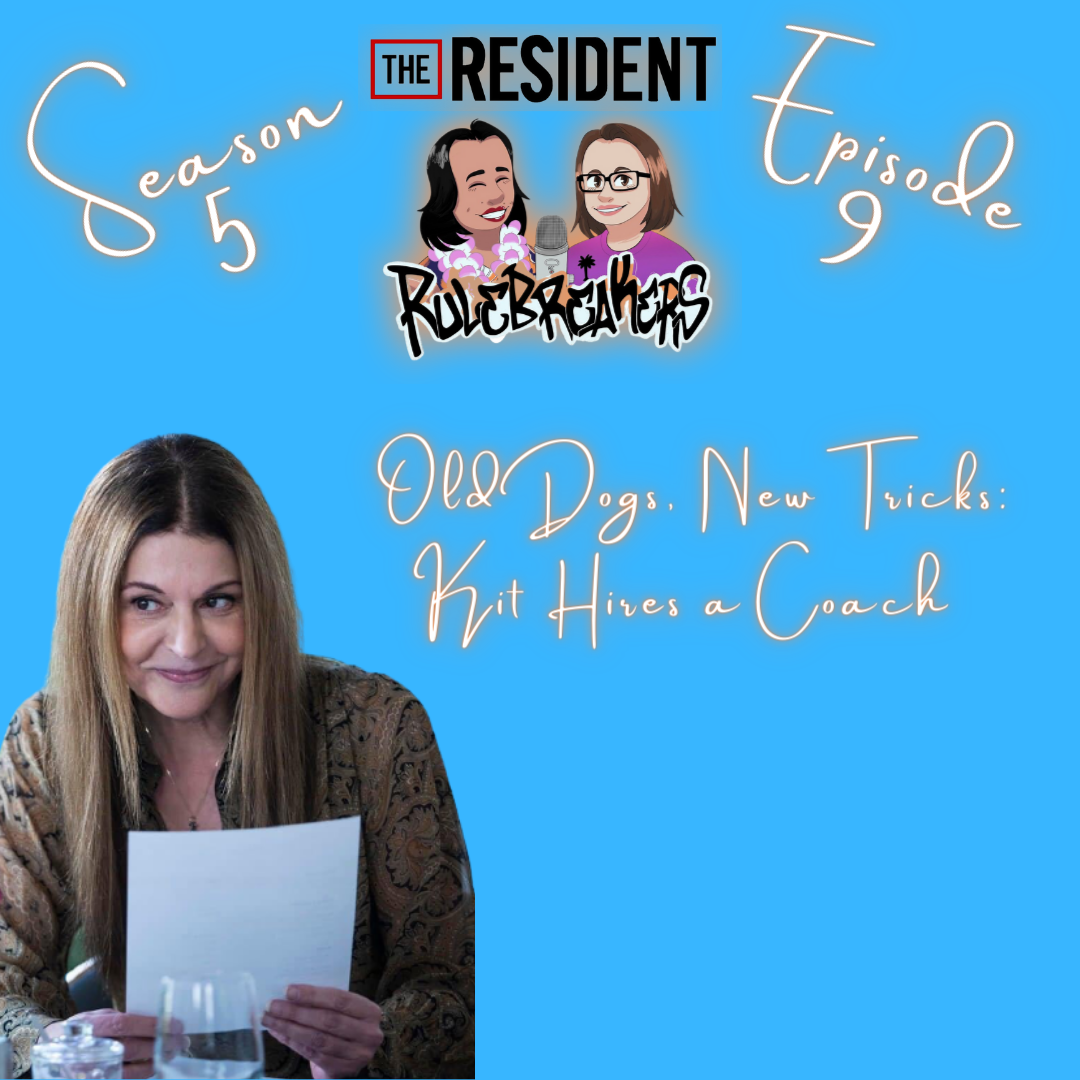 We hope everyone had a wonderful Thanksgiving! 
On this week's #TheResidentRulebreakers, we discuss episode 5x08 of #TheResident, titled "Old Dogs, New Tricks".
Written by: Elizabeth Peterson; Directed by: Sam Friedlander
-
Discussion topics:
Kit hires Bell and AJ a surgical coach - and neither likes it very much
#KitBell
The ladies love Conrad (and Gigi) - but he's uncomfortable
Is Billie jealous or sad?
The elderly couple
Winston returns
Devon's new path
Why are you so rude, Irving?
We miss #Feldmore
We miss Leela
-
News:
Episode 5x08 - "Old Dogs, New Tricks" Same Day Ratings
Episode 5x09 - "He'd Really Like to Put in a Central Line" Press Release, Photos, Promo, etc - Airs November 30
Episode 5x10 - "Origin Unknown" Press Release (Mid Season Finale) - Airs December 7
Upcoming episodes without a press release or title:

Episode 5x11 - Title TBA - February 1 (Winter Premiere)
Upcoming Podcasts:
Episode 5x09 Discussion - "He'd Really Like to Put in a Central Line" - December 6
Episode 5x10 Discussion - "Unknown Origin" - December 13
News Rundown: Part 3 - January 31
Episode 5x11 Discussion - Title TBA - February 7
-
The seven week break in the airing schedule allows the cast and crew to get some much deserved time off during the holidays to rest and spend some time with family. It will also allow for them to have a easier production timeline upon return from their holiday break.
We also will be busy in this time period with Hallmark Heartbeats leading up to Christmas. Camille is supposed to have surgery on her throat in January and we will take the time off given to us to rest, enjoy Christmas with our families, and for her to recover from surgery before the show returns in February.
We say enjoy life and your holiday season!
-
Camille is the host of Hallmark Heartbeats - a podcast about Hallmark Channel movies. Go check it out if you love Hallmark movies. She's @hallmarkheartbeats on Instagram. You can also support her on Buy Me A Coffee: https://www.buymeacoffee.com/hmarkheartbeats, and is on all the same platforms you can find us!
It's Countdown to Christmas on Hallmark for the next three weeks, and Kayla is joining Camille to review the movies and interview the stars. Join us!
-
PATREON
Want to help us keep growing the podcast? Become a patron. Any dollar amount and cancel at anytime. Money will be used for better software, equipment and interviews. You also get access to new podcast episodes hours before we release it elsewhere.
Right now, Kayla NEEDS to replace her laptop that she uses to edit the podcast. This money for the foreseeable future, will be used to help replace the computer.
(https://www.patreon.com/theresidentpodcast)
-
November is Epilepsy Awareness month, and Kayla has had Epilepsy far longer than she can remember. One in every 26 people will develop Epilepsy in their lifetime. Isn't that reason enough to help fight for a cure and raise awareness and erase the stigma? Go to https://www.epilepsy.com/ for more information.
-
SUBSCRIBE:
- Podbean
- Apple Podcasts
- Google Podcasts
- Spotify
- iHeartRadio
- YouTube
-
CONTACT US:
- Email - theresidentrulebreakers@gmail.com
- Facebook - The Resident Rulebreakers Podcast or The Resident Fox Fans
- Instagram - theresidentpodcast, theresidentonfoxfans, kbcountry37
- Twitter - ResidentPodcast
*Reminder: Cyber bullying is NOT tolerated and will get you blocked and banned from our social media.*
-
Next week: Episode 5x09 discussion, "He'd Really Like to Put in a Central Line".