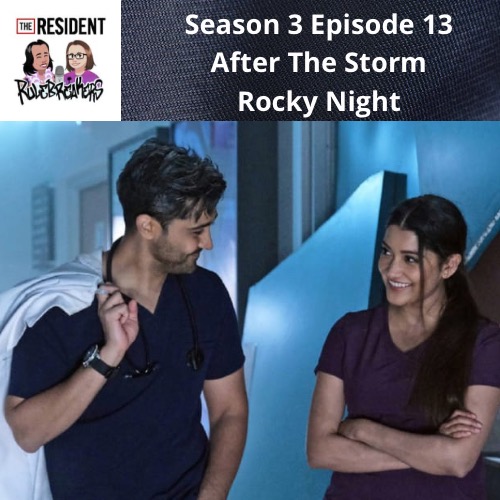 This week, we discuss episode 4x11 - "After the Storm" - and before you ask why they didn't take cover faster - Kayla explains tornado season in the south - and also they used it to add drama to the show.
-
Written by Peter Elkoff and Eric I Lu
Directed by Pablo Gomez Castro
-
The ramifications of the tornado
#CoNic save their baby chicks from the rain before heading to work. Conrad protects Nic and the baby during the storm - but ends up with an injured shoulder which he shrugs off until Nic reprimands him for it, but stitches him up anyways. Nic decides to go on maternity leave. 
Sammie and her surgery - we loved her connection to Jake. What we think will happen to her.
Devon and Leela perform brain surgery with power tools on the electrician putting new lights in the SIM Lab. Camille says it reminds her of a Grey's Anatomy episode. We both note we are against Devon and Leela dating, but loved their teamwork in this episode - as well as the show highlighting Leela working through her dyslexia and Devon helping her with it. Also, she kicked everyone's butt at darts when they went to get drinks.
Cain and Billie help Rose after she falls in the bathroom - and Billie gets Cain to be vulnerable for once.
The paramedic that died after having her leg amputated by Kit. 
Also, please more screen time for Kit! We miss the kick ass surgeon.
Is Mina being written more emotional now that Shaunette has left the show? What's with that note she left for Nic and the heart emojis she's sending to AJ? I get she's half a world away - but just doesn't sound like Mina.
-
May is AAPI Awareness month - so we are bringing more awareness to AAPI this month - especially since Camille is Filipino and we have a few cast members who are also AAPI. 
This week, we want to bring awareness to the Covid crisis in India. They have more people dying than they have room or supplies. Please help by donating to https://www.giveindia.org/. 
-
May is also Camille's birthday month (May 12) - so in honor of her birthday - she wishes you to donate to Give India.
Matt (May 20) and Emily (May 12) also have birthdays this month. When time comes closer - we will honor their birthdays.
-
Camille is the host of Hallmark Heartbeats - a podcast about Hallmark Channel movies. Go check it out if you love Hallmark movies. She's @hallmarkheartbeats on Instagram. You can also support her on Buy Me A Coffee: https://www.buymeacoffee.com/hmarkheartbeats, and is on all the same platforms you can find us!
-
No word on renewal - but we are optimistic. Remember, we didn't get renewed for season 4 until after the finale last year. Spring upfronts are coming - so we should know more soon!
-
PATREON
Want to help us keep growing the podcast? Become a patron. Any dollar amount and cancel at anytime. Money will be used for better software, equipment and interviews. (https://www.patreon.com/theresidentpodcast)
-
Upcoming Podcasts:
- May 10 - 4x12 - "Hope in the Unseen" Discussion
- May 17 - 4x13 - "Finding Family" Discussion
- May 24 - 4x14 - "Past, Present, Future" Discussion (SEASON 4 FINALE)
-
SUBSCRIBE:
- Podbean
- Apple Podcasts
- Google Podcasts
- Spotify
- iHeartRadio
- YouTube
-
CONTACT US:
- Email - theresidentrulebreakers@gmail.com
- Facebook - The Resident Rulebreakers Podcast or The Resident Fox Fans
- Instagram - @theresidentpodcast, @theresidentonfoxfans, @kbcountry37
Twitter - @ResidentPodcast
-
Next week: Episode 4x12 Discussion - "Hope in the Unseen"