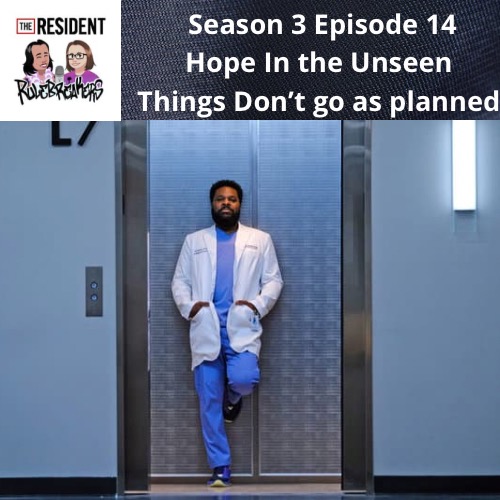 In this episode of The Resident Rulebreakers, we discuss episode 4x12 of The Resident, "Hope in the Unseen". 
Written by Dr. Daniela Lamas and Michael Notarile
Directed by Rob Corn
-
This podcast is in honor of moms of all kind on this Mother's Day weekend. 
-
Camille's Birthday is May 12th! Happy Birthday, Camille! In honor of Camille's birthday we wish for you to donate to https://www.giveindia.org/ to help India battle the crippling COVID-19 crisis, as well as in honor of AAPI Awareness month.
-
Emily's Birthday is also May 12th. We wish her a very happy birthday!
-
Episode Discussion:
#CoNic and the spa day 
#CoNic help Pete get treatment for a vitamin C deficiency - and also get him surgery for his liver courtesy of Bell and Leela
AJ yells at Leela in the OR - and she learns a lesson on how to release her frustration from Kit in the supply room. Also, Bell steps in as her temporary mentor. 
AJ also apologizes to Leela and gives her an olive branch - a major turning point on the episode.
Kit's under strain from Marshall and the board to get the hospital's debt under control, but in the midst of it all she and Marshall save Phillip's company after his research shows promise in helping cure Rose.
Rose's setback isn't what we expected and we are pleasantly surprised it's not the drug causing her issues. We also both relate to a time in our own pasts when a medical issue made us lose hope to see that there was a cure in sight. Also, who saw Cain as the person to get her to accept treatment??
AJ's mom's treatment - and we question if it's the best idea. Is prolonging her life in hope for a cure that currently doesn't exist something that should happen. Nonetheless, it's nice seeing AJ with his parents.
Cain's mental block in the OR - and Billie covering for him again. When will he get the help he needs?
Also - why isn't there a Conrad/Marshall scene - I mean his granddaughter is coming soon. It's a missed opportunity.
-
Upcoming Podcasts 
- May 17 - Episode 4x13 Discussion - "Finding Family"
- May 24 - Episode 4x14 Discussion - "Past, Present, Future"
-
No word on renewal - but we are optimistic. Remember, we didn't get renewed for season 4 until after the finale last year. Spring upfronts are coming - so we should know more soon!
-
PATREON
Want to help us keep growing the podcast? Become a patron. Any dollar amount and cancel at anytime. Money will be used for better software, equipment and interviews. (https://www.patreon.com/theresidentpodcast)
-
Camille is the host of Hallmark Heartbeats - a podcast about Hallmark Channel movies. Go check it out if you love Hallmark movies. She's @hallmarkheartbeats on Instagram. You can also support her on Buy Me A Coffee: https://www.buymeacoffee.com/hmarkheartbeats, and is on all the same platforms you can find us!
-
SUBSCRIBE:
- Podbean
- Apple Podcasts
- Google Podcasts
- Spotify
- iHeartRadio
- YouTube
-
CONTACT US:
- Email - theresidentrulebreakers@gmail.com
- Facebook - The Resident Rulebreakers Podcast or The Resident Fox Fans
- Instagram - @theresidentpodcast, @theresidentonfoxfans, @kbcountry37
Twitter - @ResidentPodcast
-
Next Week: Episode 4x13 Discussion - "Finding Family"