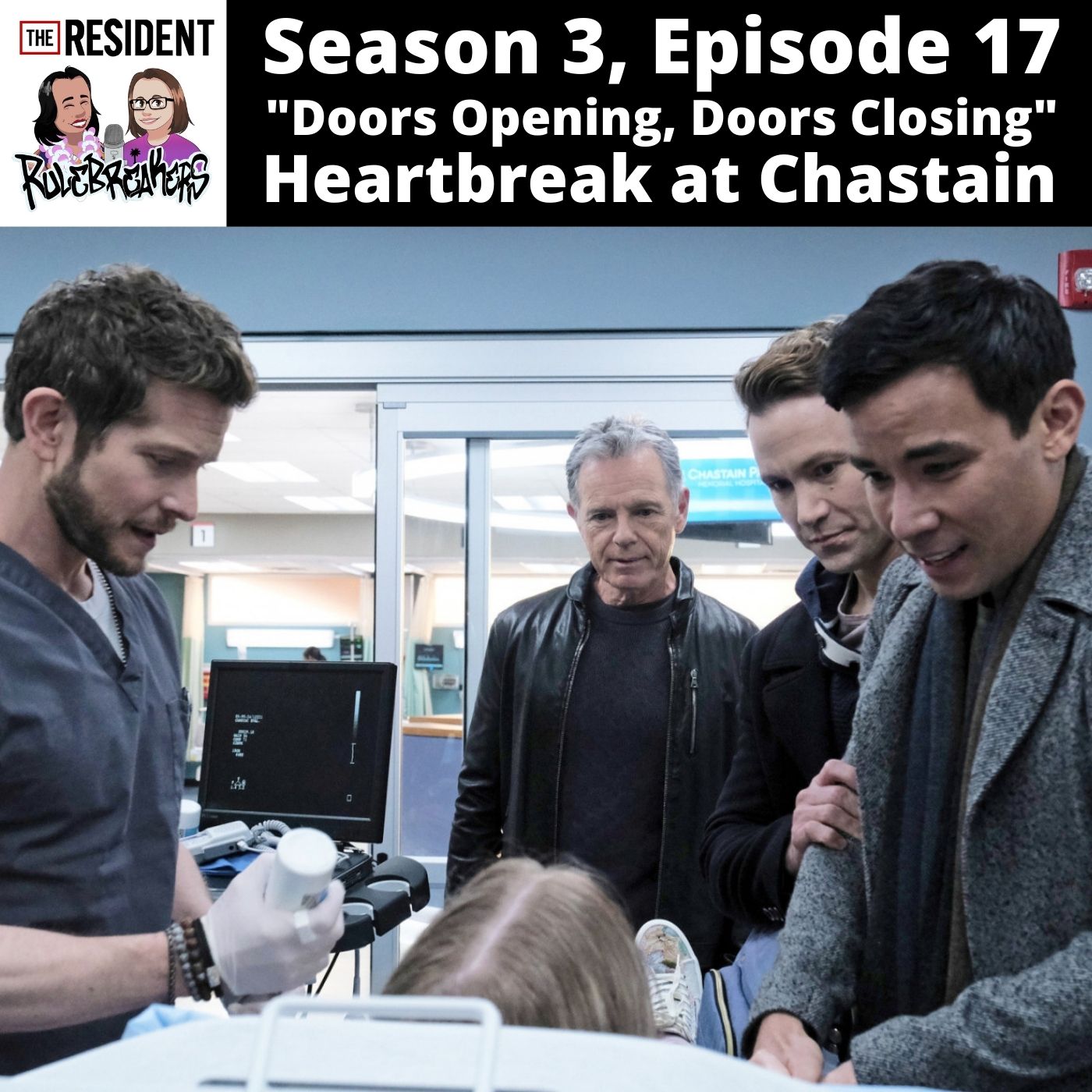 This week, we decided to talk about episode 4x09, "Doors Opening, Doors Closing" - as Kayla was still sick with long haul Covid when the episode originally aired - and we couldn't record the podcast. This podcast will be the last episode in season 4 that we discuss - as all the others have podcasts already.
We were both reminded how mad we got after seeing this episode - and we didn't hold back either.
-
Episode 4x09 was written by Jen Klein & Joshua Troke, Directed by Li Lu
-
Our anger over Tina's parents' homophobia and heartbreak for Jake and Gregg not getting to adopt the baby they had put so much effort planning for. 

We're so glad they got to adopt Sammie - we hope to see more of them in season 5 as they provide much needed LGBTQ+ representation that The Resident needs.
Also, we talk about the anger this storyline made us feel - and how un-Christian it is to hate anyone.

Kayla notes her background of being raised in deep south - in the bible belt - and in the Southern Baptist Church (though she's not religious anymore) - and notes the last thing that she was taught was to hate anyone.

Irving and Jessica's wedding

We feel let down by the writers with the #Feldmore wedding
The wedding feels like it was dropped in last minute when the writers realized they promised another wedding - and were running out of room to have it in the show this season.
We love Tasso and Jessica - and they deserved a better wedding than their characters got - especially since they've both been around since the pilot.
However, we love the fact that they used the Georgia Aquarium on the show as a location. It's one of Kayla's favorite places in Atlanta.
Will the fact that they are married ever come back up? Do better writers!

Devon meets his match(maker)

An Indian matchmaker named Myra arrives in the ER (due to texting and driving) and she zones in on Devon as a potential client. He's hesitant at first - but it turns out that Nadine is married and has had a baby in a very short amount of time. Devon agrees to one free match - which just happened to be Leela.
We note why we don't like the Devon/Leela pairing again - hoping that the writers listen and give Leela some substance and growth before making her Devon's love interest if that is what they plan to do.
Jessica coming in the room with Devon and Myra and telling Myra about Devon's relationship fails is our favorite scene of the episode.
PSA of the episode: Don't text and drive - it's not worth your life - or getting injured.

Mina makes her decision

The gang tries everything to get Mina's visa renewed so she can stay, but she ultimately decides to go back to Nigeria to help her mother before she can be deported.
AJ wants to go with her - but we know he stays behind in the next episode to care for his own mother. 
Also, Shaunette asked to leave and this was the best option to write her out.
Malcolm loves being on the show - and we are excited to see where the new season takes AJ. 
We will miss the #Minator tension in the OR scenes though.

#Kitdolph

They are the cutest aren't they? We love how supportive they are of each other - and can't wait to see more of them!
Kayla clears up her will they/won't they statement from last week's podcast.

#CoNic

They were in the background this episode - and we were ok with that. They don't need to be front and center every episode. 
When did paint colors begin sounding like desserts?
-
PATREON
Want to help us keep growing the podcast? Become a patron. Any dollar amount and cancel at anytime. Money will be used for better software, equipment and interviews. (https://www.patreon.com/theresidentpodcast)
-
Happy Memorial Day to our fellow Americans. It's a day to honor our fallen war heroes. Thank you for your sacrifice.
-
Camille is the host of Hallmark Heartbeats - a podcast about Hallmark Channel movies. Go check it out if you love Hallmark movies. She's @hallmarkheartbeats on Instagram. You can also support her on Buy Me A Coffee: https://www.buymeacoffee.com/hmarkheartbeats, and is on all the same platforms you can find us!
-
It is the last day of AAPI Awareness month - so we are bringing more awareness to AAPI this month - especially since Camille is Filipino and we have a few cast members who are also AAPI. 
Conrad Ricamora was in a video to bring awareness about AAPI hate.
Manish also had a wonderful quote he posted about diversity, which you can view on his Instagram - @manishdayal.
-
During hiatus, we will be doing TWO podcasts a month - so subscribe to us so you know when the next podcast is!
-
SUBSCRIBE:
- Podbean
- Apple Podcasts
- Google Podcasts
- Spotify
- iHeartRadio
- YouTube
-
CONTACT US:
- Email - theresidentrulebreakers@gmail.com
- Facebook - The Resident Rulebreakers Podcast or The Resident Fox Fans
- Instagram - @theresidentpodcast, @theresidentonfoxfans, @kbcountry37
Twitter - @ResidentPodcast