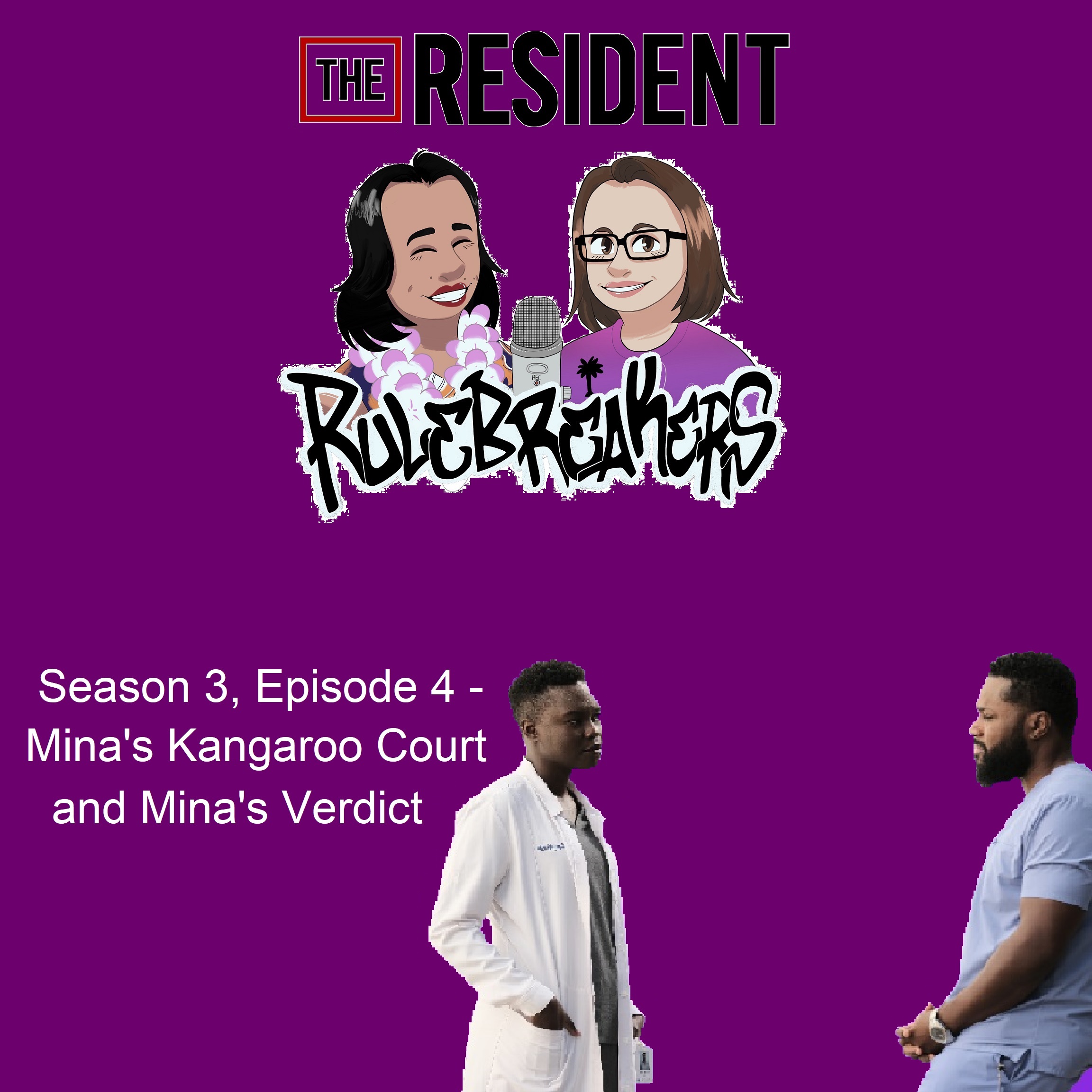 This week, Brittany returns to step in for Camille. She and Kayla discuss everything about episode 4x02 of The Resident, titled "Mina's Kangaroo Court".
-
Note: We recorded this podcast episode on January 17, 2021 - two days before it aired on Fox. We got to do this because Fox put it up early on Hulu. It's a rare opportunity when we get to do this, so we are cherishing it.
*When we have guests, sometimes their opinions don't align with ours.*
-
4x02 was written by Peter Elkhoff & Marqui Jackson. Directed by Rob Corn.
-
In this podcast:
- Mina plays judge, jury and executioner on Cain and we agree with her verdict. He doesn't need to be practicing medicine anymore. He's broken his hypocritic oath many times over.
   - Mina tells the patient from 4x01 about Cain's unsavory past against AJ's wishes and the patient and his wife sue the hospital. We cheer Mina on for following her morals.
   - AJ notes he and Cain have a brotherhood as the only black, male surgeons in the hospital - which is why he's so reluctant to go after Cain. Mina reminds AJ she is Nigerian and that her experience with racism is different, which is why she has no hesitation doing what she did.
- Minator take a break from the sexual aspect of their relationship, but not the relationship. They are still an item. Also we loved how unemotional their barganing was about how many nights they would be apart.
- Conic enjoy newlywed life after returning from their honeymoon in Key West, Florida. Conrad thinks married sex is better and Nic still is having trouble calling Conrad her husband. 
   - The big reveal of the episode - Conic are having a baby! They are getting their rainbow baby. We expect a not so easy pregnancy for Nic as she's had a miscarriage once before. We are going along for the ride to see how the show handles this plot.
- Conrad and Devon treat a black, female congresswoman who is running in a special election for the governor of Georgia - who is also having an affair with her driver. A secret she doesn't want out there. However, Conrad assures her doctor/patient confidentiality prevents him from saying a word. It's a PSA from the writers to not lie to your doctor.
- Devon is battling his grief over his dad and reveals to Conrad that his father could've survived had he been in a better hospital with more nurses. 
- Logan Kim is toast!! He's gone, but Conrad leaves him with words of wisdom that Kayla notes sound a lot like something her dad once told her.
- Kit is trying to get the CEO position - but Red Rock isn't too keen on replacing Kim due to the hospital's finances.
- Bell does a life reassesment and goes to find his former step son (played by Conrad Ricamora). Their reunion is very cold, but Bell realizes he may have had more influence on Jake than he thought since he became a plastic surgeon. He was worried about Jake's ability to support himself since Jake is also an amatuer musician.
- Also, Kitdolph. They are so cute encouraging each other.
- 
PATREON: Want to help us keep growing the podcast? Become a patron. Any dollar amount and cancel at anytime. Money will be used for better software, equipment and interviews. (https://www.patreon.com/theresidentpodcast)
-
Upcoming Podcasts: 
- February 1 - Episode 4x03 Discussion - "The Accidental Patient" 
- February 8 - Episode 4x04 Discussion - "Moving On and Mother Hens"
-
SUBSCRIBE!
- Podbean
- Apple Podcasts
- Google Podcasts
- Spotify
- iHeartRadio
- YouTube
-
 - Email - theresidentrulebreakers@gmail.com 
 - Facebook - The Resident Rulebreakers Podcast or The Resident Fox Fans 
 - Instagram - theresidentpodcast, theresidentonfoxfans, kbcountry37, bflaggstanley 
 - Twitter - ResidentPodcast 
Episode 4x03, "The Accidental Patient",  airs Tuesday, January 26, 2021 at 8 PM ET on Fox. Please watch live, or on Hulu if you can't.
Preferably within a week of airing so it can count in the ratings!! Even the Hulu streams count!! Please watch legally as we need the ratings to get renewal. We will only tell you to watch with a legal source.
Next week: Episode 4x03 Discussion - "The Accidental Patient"