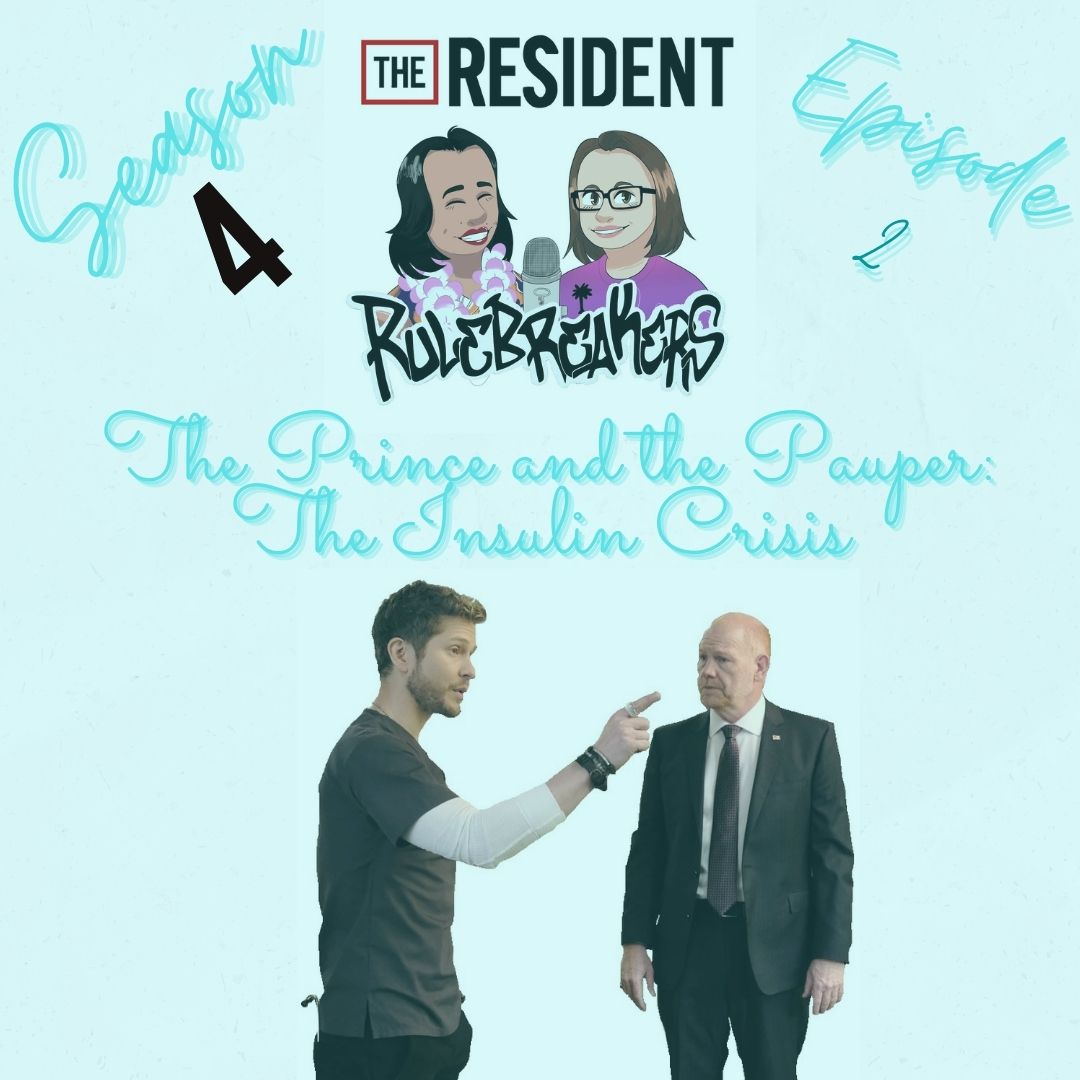 In this episode of The Resident Rulebreakers, we discuss episode 2x02 of The Resident, "The Prince and the Pauper".
Written by Amy Holden Jones and Andrew Chapman; Directed by Nicole Rubio
-
Mina & Micah (& AJ)
#CoNic and their cute rooftop date night
Julian's first appearance - and how we knew then that Priya and Devon were doomed
Bell gets arrested for solicitation - and doesn't self report it to the state medical board. We also talk about his amazing character growth since this episode to what he is today.
Devon and his med school students - and how much we miss Ezra
Marshall wants Conrad's opinions and input and Bell hates it - he also takes advice from Nic about starting community outreach with the free clinic.
The parallels of their families having money changes everything for two young kids with diabetes. Jack survives and gets excellent care, Abby is rationing her insulin - and ends up in the ICU in diabetic coma. 
The crisis of how expensive insulin is in America - a 1200% increase in price and the drug never changed.
The mantra of profits over patients - and how they illustrated this not only with the insulin - but the air transport companies as well.
-
Upcoming:
July 12 - Episode 2x04 Discussion - "About Time"
July 26 - Episode 2x05 Discussion - "The Germ"
August 9 - Episode 2x07 Discussion - "Trial and Error"
August 23 - Episode 2x08 Discussion - "Heart in a Box"
-
Happy Belated Father's Day
-
Happy Independence Day, fellow Americans! 
-
PATREON
Want to help us keep growing the podcast? Become a patron. Any dollar amount and cancel at anytime. Money will be used for better software, equipment and interviews. (https://www.patreon.com/theresidentpodcast)
-
Camille is the host of Hallmark Heartbeats - a podcast about Hallmark Channel movies. Go check it out if you love Hallmark movies. She's @hallmarkheartbeats on Instagram. You can also support her on Buy Me A Coffee: https://www.buymeacoffee.com/hmarkheartbeats, and is on all the same platforms you can find us!
-
This podcast, we are highlighting the tragedy of the 1,323 unmarked graves found at residential schools in Canada and the the US Department of the Interior is now looking into this tragedy here in the US. To help support the cause, please click the link to donate to the Indian Reservation Schools Survivors Society. (https://www.irsss.ca/donate?fbclid=IwAR04T_J_QkR7qDwMkB3Fvq53p2_k6mLZNcl9xxYQS1rMrv044k_dbJwJq_U)
-
SUBSCRIBE:
- Podbean
- Apple Podcasts
- Google Podcasts
- Spotify
- iHeartRadio
- YouTube
-
CONTACT US:
- Email - theresidentrulebreakers@gmail.com
- Facebook - The Resident Rulebreakers Podcast or The Resident Fox Fans
- Instagram - theresidentpodcast, theresidentonfoxfans, kbcountry37
- Twitter - ResidentPodcast
- 
In two weeks, we will be discussing episode 2x04, "About Time".