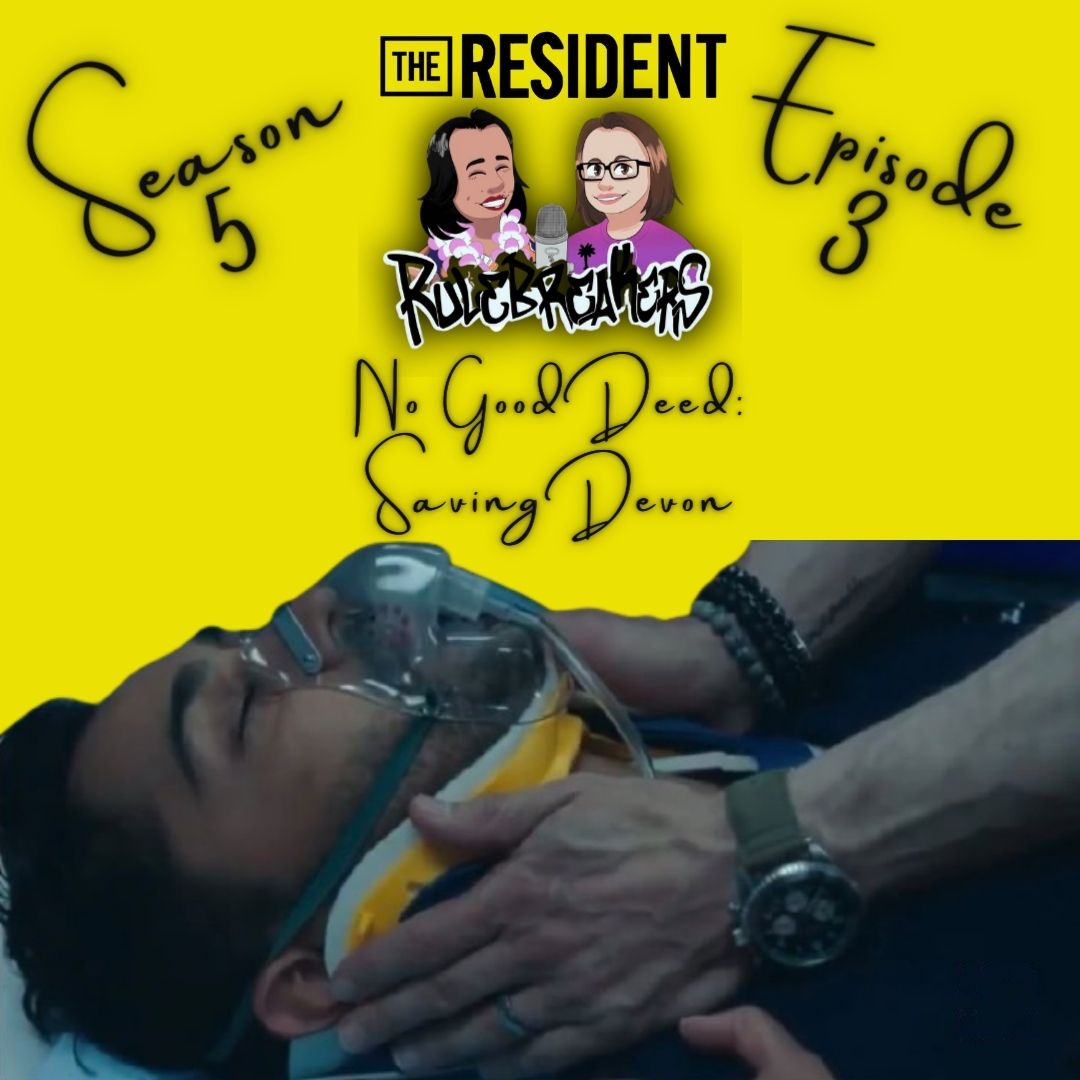 In this episode of #TheResidentRulebreakers, Kayla and Camille discuss episode 5x02 of #TheResident - titled "No Good Deed".
Written by Andrew Chapman; Directed by Kelli Williams
-
Episode Discussion Topics:
- Devon gets found unconscious in an elevator on the roof - How did he get there - especially since he went to the basement to search for Winston.
They figure out he was poisoned by hydrogen sulfide gas after his scans come back and start treating him.
- We ask - why did it take so long to find Winston? It took Conrad retracing Devon's steps to figure out what happened. We are both glad Winston and Devon both survived this.
If we were Winston - a lawsuit would be happening. Did his disability cause issues with his care? We discuss that too.
- Also, what happened to the tech and the receptionist? Are they ok?
- #Deela
Leela knew something was wrong with Devon and came to work searching for him. Turns out, she was right. Devon's life being in danger pushes Leela to declare she's not leaving his side again and agrees to move in with Devon. We like this more than we thought we would.
- #CoNic
Conrad also knows something is off when Nic doesn't answer his calls and texts and she is due back from her trip soon. This is confirmed by the episode's cliffhanger when police show up to deliver the news we are all dreading to hear - Nic has been in an accident. Kudos to Matt on his acting in this scene.
We also discuss how this cliffhanger will be the topic of episode 5x03 - "The Long and Winding Road". The promo. The photos. Everything.
- #KitBell/#Kitdolph
Bell tries to apologize to Kit for asking her out at the end of episode 5x01 - "Da Da". However, Kit is so busy she puts him off doing it. 
Bell offers to take a few things off her plate - like hiring Cain's replacement. Turns out, Bell gets red flags on the guy and was right. Guy was disaster waiting to happen. Bell tells Kit as such. Whew, glad that's over.
Kit asks Bell out for Italian food at the end of the episode - and we are here for it. 
- Billie's past comes to light
Billie's son, Trevor, shows up at the ER with his friend who is OD'ing. The team saves her, but she has complications.
Due to these complications, Billie has to operate on Trevor's friend and AJ learns the truth of the connection between them. 
AJ steps in to help both Billie and Trevor through it in different ways - and doesn't reveal the truth of why Billie doesn't want contact with Trevor through it all. A real friend. AJ is now Billie's secret keeper. More of AJ and Billie, please.
- Irving is so blunt - a side to him we rarely get to see
-
News:
- Episode 5x01 - "Da Da" - Live +7 Ratings Double from Same Day
- Episode 5x02 - "No Good Deed" - Same Day Ratings
- Episode 5x02 - "No Good Deed" - Post Episode Articles
- Episode 5x03 - "The Long and Winding Road" - Promo, Photos, Synopsis - Airs October 5
- Episode 5x04 - "Now What??" - Synopsis - Airs October 12
- Episode 5x05 - "The Thinnest Veil" - Synopsis - Airs October 19
- Episodes without a press release, but we know the title:
Episode 5x06 - "Ask Your Doctor" - Airs November 2
Episode 5x07 - "Who Will You Be?" - Airs November 9
Episode 5x08 - "Now I See" - Airs November 16
- 
Upcoming Podcasts:
- October 11 - Episode 5x03 Discussion - "The Long and Winding Road"
- October 18 - Episode 5x04 Discussion - "Now What??"
- October 25 - Episode 5x05 Discussion - "The Thinnest Veil"
- November 8 - Episode 5x06 Discussion - "Ask Your Doctor"
- November 15 - Episode 5x07 Discussion - "Who Will You Be?"
- November 22 - Episode 5x08 Discussion - "Now I See"
-
PATREON
Want to help us keep growing the podcast? Become a patron. Any dollar amount and cancel at anytime. Money will be used for better software, equipment and interviews. You also get access to new podcast episodes hours before we release it elsewhere.
(https://www.patreon.com/theresidentpodcast)
-
Camille is the host of Hallmark Heartbeats - a podcast about Hallmark Channel movies. Go check it out if you love Hallmark movies. She's @hallmarkheartbeats on Instagram. You can also support her on Buy Me A Coffee: https://www.buymeacoffee.com/hmarkheartbeats, and is on all the same platforms you can find us!
-
SUBSCRIBE:
- Podbean
- Apple Podcasts
- Google Podcasts
- Spotify
- iHeartRadio
- YouTube
-
CONTACT US:
- Email - theresidentrulebreakers@gmail.com
- Facebook - The Resident Rulebreakers Podcast or The Resident Fox Fans
- Instagram - theresidentpodcast, theresidentonfoxfans, kbcountry37
- Twitter - ResidentPodcast
*Reminder: Cyber bullying is NOT tolerated and will get you blocked and banned from our social media.*
-
Next week: Episode 5x03 Discussion - "The Long and Winding Road"